Restaurant Review - Perfect Pitstops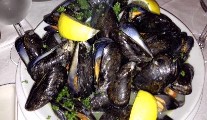 Tuesday 16 July 2013
Many years ago, when planning our first trip driving around the North of France, I found a book which followed the 'B' roads, leading us up highways and byways of delight, with recommendations for eateries and places to lay our heads. I am not going to try and emulate this great little book in one article but, as many of you head off on holiday en famille, or sans famille, maybe to point you in the direction of a couple of pit stops close to main routes. I have given somewhere that will suit all the family, and an alternative for a slightly posher libation if you want a foodie experience incorporated in the trip.
Heading West or North West and you are already hearing those cries of 'are we there yet' and 'I want to go to the toilet'! Travelling with kids, you need somewhere casual with a wide selection of foods on offer. Red Earth in Mullingar Business Park has easy parking and a large self-service restaurant with a wide selection of salads, hot dishes, pizzas, and a wok station. They are open for breakfast and their All Day Menu kicks in at 11.30 a.m. They do posh sandwiches such as McCarren's leek sausage Panini with melted cheese and tomato relish, or Irish smoked salmon with capers, red onion, mustard grain dressing on homemade brown bread. Hot dishes change daily but their stirfry menu offers enough to keep any chilli head happy with beef or prawns being stir fried with chilli, oyster sauce, soy and ginger, Singapore noodles with BBQ pork, leek, mixed peppers, egg, and bean sprouts. It is also a lovely place for Mum to have a browse in their Food Hall and shop. www.redearthireland.com If on the other hand you want to break the journey and stay overnight, the superb VM Restaurant at Viewmount House in Longford is a foodie experience in itself. Here Donegal Chef Gary O'Hanlon is serving up sleek sophisticated dishes such as a tartlet of fig, Serrano ham, Crozier Blue cheese with butternut squash and toasted pine nut with Piquillo pepper, garlic and herb oil, micro watercress. They have accommodation here also and beautiful gardens and lawns in which to relax and sit out with a glass of vino. www.viewmounthouse.com
The Derg Inn at Terryglass, Co. Tipperary, is an ace place to stop if you are en route to Limerick and or onwards to Kerry. The village is pretty and relaxing, and indeed a destination in itself. At the Derg Inn, starters or sharing plates €6.50 - €10.75 include goats cheese in filo pastry with mango compote, basil dressing and Parmesan shavings. Crab claws are with garlic and herb butter, whilst Kataiffi Jumbo prawns are delicious with garlic mayonnaise and chilli jam. The Derg burger has all the trimmings, and you will also find homely comforts such bacon and cabbage and fish and chips. www.derginn.ie For a little bit of France in Ireland on your trip, head for The French Table on Steamboat Quay in Limerick City. Here French Chef Patron Thomas Fialon, and his Irish wife Deirdre, do a cracking 2/3 course 'Set Lunch Menu' at €16/€20 with fishcakes, smoked duck salad, confit duck leg with garlic and thyme, fish of the day, and panfried Sirloin steak with a red wine jus (€3 supplement). A la carte prices are €4 - €16. www.frenchtable.ie
We are very frequently on the M8 to Cork and find there is a bit of a dearth of good eateries near the motorway. However one of our favourite stop off spots is the eponymous Horse & Jockey Hotel at Junction 6 , 14 kms north of Cashel town. Again easy parking and all facilities, bar food and also a wonderful coffee shop with cakes to die for made by in house baker Jacqueline Lanigan-Ryan. www.horseandjockeyhotel.com With the new M9 motorway from Dublin to Waterford, we tend to travel to Cork that way. It leads on to the N25, which is a very pleasant drive on good roads with that 'close to the sea' feel. The pretty Green Barn Bistro between Youghal and Killeagh has acres of parking, children's swings, and hens and ducks running around which will amuse your kids, and give you a bit of headspace! The Green Barn menu offers lots of casual food including daily roast specials with prices from €7.60 to €13.90. They do an excellent antipasti plate in both small or large sizes, as well as an Ardsallagh goat's cheese salad with rocket, pine nuts, baby beetroot and honey vinaigrette. Chef Richard's Greenbarn seafood pie is delicious as is the linguine tossed with chilli and garlic prawns. You won't be hungry and they also do an all day breakfast. www.greenbarn.ie If you want a more formal yet relaxed experience head for Farmgate in Midleton where you will be assailed as you walk through the door with smell of fresh baking and the best of local fish and fresh produce. Prices run from €6.50 to €18 which is for an 8oz rib-eye but they have lovely salads, traditional Irish lamb stew, pasta dishes and great deepfried squid with chilli Provençale. I know you won't leave Farmgate without one of their fab cakes. www.farmgate.ie
A lot of people have been heading up to the Titanic Exhibition in Belfast this year and visiting the Giant's Causeway. The Brewer's House is a great Gastropub at Donaghmore near Dungannon and they do a cracking Express lunch from 12noon – 4 p.m. which will satisfy all the family for the onward trip. Mains run from Stg£ 7.50 for Brian's Posh Pizza with smoked pork belly, apple and crusted salami, to Beer battered fish of the day served with mushy peas, and triple cooked chips at £9.95. They do a cracking Thai chicken curry with chilli, cumin and coconut, and they have a great kid's menu. www.thebrewershouse.com If you want a really grown up gastronomic experience head for The Boat House at Bangor. Here Dutch chef Joery and Jasper Castle have been making waves on the foodie scene with their serious but playful contemporary cuisine. The 2/3 course lunch menu is £20/£25 and a 5-course Tasting menu is £35. Fancy cannon of lamb with a trompette mushroom and mustard crust, 16 hour cooked lamb's breast, courgette, braised fennel and olive, polenta and goats cheese cake, tomato jus? You will have been well rewarded for your drive. www.theboathouseni.co.uk
Get up the Sat Nav - good travelling and great eating.
FIRST PUBLISHED IN LIFE MAGAZINE IN THE SUNDAY INDEPENDENT on 14th JULY 2013.