Meet the guy behind the Bunsen Burger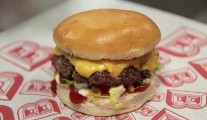 Monday 15 July 2013
"What I loved about New York is that you have a guy that does the best chips, a guy that does the best sushi, a guy that does the best baguettes, ….the best coffee, and they can all trade independently whereas here there is a rush to satisfy everybody under the one roof. We want to be known as having the best burger in Dublin. The fundamental philosophy is keeping it simple." Ambitious words from Dubliner, Tom Gleeson, who has just started his own new business, the hot hip Bunsen Burger on Wexford Street. However, with people more conscious than ever of what they put in their bodies, it is good to know that Tom Gleeson sources selected cuts of the best Black Aberdeen Angus beef which are freshly minced each day for his top notch burgers.
Following school at St. Michael's College in Ballsbridge, 28-year-old Tom Gleeson went to Trinity College, where he studied Business & Politics. "I finished the course in 2010, it was good, I enjoyed it, but it was probably where I decided academia was not for me. I was still sort of wondering what I would do with my life and, as I came out of Trinity, job prospects weren't too great at that time." Tom decided to go to Ballymaloe Cookery School where he took the 3 Month Diploma Course in cooking. "I had always been interested in food. You couldn't bank on it being a business opportunity but I felt it would be a good life skill to have. I thought it was brilliant, it gave me a good grounding on more complicated techniques that you wouldn't have yourself."
After that he went to America on the 1 Year Graduate Visa Programme where he interned for two Production Companies. "It was very low pay but it was a brilliant experience living in Manhattan for a year and trying all the best street food, getting lots of ideas. That's where the idea of getting this burger place began to germinate. You can walk into any bar in New York and get a really great quality burger. I felt that was something you couldn't do here. You always get something not ideal." Whilst in New York he also did a couple of weekend Stages at Eric Ripert's 3 Michelin Star Restaurant Le Bernardine. " I did this just to keep up my skills and keep up with things. One of my friends had been working for Eric Ripert as a low level assistant and just by chance I managed to get in."
Tom says Le Bernardine was a really good experience and got him really further interested in the food world and, when his year was up in New York and his Visa about to expire, he applied to Heston Blumenthal's Fat Duck in Berkshire where he subsequently worked for three months. "It was a monastic task, like picking apart tiny pieces of grapefruit, or scaling 50 salmon first thing in the morning. Perhaps laborious tasks but they were interesting jobs that get you really close to the ingredient, really intimate with it, and you get to know everything about it. I was working there 17 hours a day, 20 minutes for your lunch, 20 minutes for your dinner, really enjoying it. It was a tough life but a very positive atmosphere, nothing like the TV stereotype of a 'Ramsey' kitchen, very much encouraging and a quiet sense of expectation amongst everybody that the highest standards would be followed. There were unbelievably high standards of cleanliness and procedure and it was great to draw on all of that stuff at a 3 Star level but, again, a slightly mesmerizing and crazy business in that it is 45 chefs for 45 customers and £200 for a meal. So, I just thought two things there. Firstly, if I was going to work 17 hours a day I should do it for myself. Secondly, I'd like to get into a volume business, not putting things on plates with a tweezers any more, but still have a good level of quality.
Coming back to Dublin he set about starting to research his idea. He moved back in with his parents to lower his cost base and started to experiment with everything. "I experimented with every kind of bun recipe for three months and refining that until I was happy. I went to a Commercial Baker trialing it and perfecting it, making sure it could be done to volume, and got that to where it needed to be. I then started with the meat. I tried all the breeds of cattle, trying to really replicate that American meat. That's hard to do. In America, the cattle are twice the size, they are all fed on grain rather than grass, and so I was just trying to look at breeds and the cuts of the animal to create that American burger. The breed I settled on was Black Aberdeen Angus and then the cuts, forequarter and hindquarter, with all sorts of different ratios. I settled on specific cut ratio, which is the secret blend, I guess, at this point. We get those cuts delivered in whole twice a week and we mince them fresh every day to this precise ratio. Our standards of cleanliness are exceptionally high. We mince everything every day in an atmosphere of under 5 degrees to be absolutely sure. We have full videos on our website and Facebook page showing production from the cutting the forequarters of beef, cutting them down, mincing them and also with the baking, producing the ingredients from scratch which shows we are doing everything ourselves and shows the amount of thought that has gone into it, that is different and shows we are not just a fast food place – it is beyond that."
Bunsen Burger serves only two types of burger – the New York style Hamburger or a Cheeseburger, priced at €6.95 and €7.45 respectively, and the burger is 150 grams. You can also have a Double of each at €8.95 and €9.45 respectively and the toppings are pickle, onion, lettuce, tomato, ketchup, mustard and mayo. Fries are €2.95 and wine is available by the glass from €4.50 - €6.50 and by the bottle from €19.50. They also stock craft beers such as Sierra Nevada, Brew Dog, Dead Pony Club and Punk IPA, and milk shakes.
With just two burger varieties would that be very limiting, I wondered.
"It is very limiting and you will alienate some people who want to have apple, avocado or banana on their burger, but what we try to do is get the people who love that classic American hamburger without it being messed around too much, and I guess there's a reason why they have stood the test of time over the years. It is an upgrade of that product because the bun is high quality and is essentially artisan baking, and the meat is exceptionally high quality. It is just giving people a really good burger they feel they can morally and ethically feel good about eating in full knowledge that all of the ingredients are of a really high quality. In terms of cheese, I looked at using every possible kind of cheese. I looked at using Comte, I adapted them with sodium citrate to change the viscosity, the stretching and everything like that, I looked at Monterey Jacks and I look at all sorts of American cheese but ultimately what I settled on was the closest thing I could get to an American cheese slice in Europe. It was a very tricky one to track down but it is Irish made. People have said it's a processed cheese slice but I think it's just the thing that works best with that product versus any really high-end cheeses. There is a time and a place for a nice piece of Stilton or Comte but in my opinion what we are using is what works. I drew inspiration from places like Shake Shack and Burger Joint in New York , and Byron Burger and Meat Liquor in London, which are fast food places taken up a level. They have all really focused on the product and quality of food.
Having taken three months to fine tune his recipes Tom says he thought he could just then walk out and grab a premises but that took him 18 months. "Finding the premises was the biggest headache. I wanted to be in Dublin 2. If you were opening a shoe shop there are lots of vacant premises but finding a restaurant premises is hard. If you don't have a lot of money to begin with, which I didn't, you have to go for an existing restaurant. When you ring an Agent and say you would like to look at a place, they say "do you have a place" and once they hear you don't, they put you at the bottom the pile. However, we got there and it's great, it's brilliant, it couldn't be better. Ultimately I got really lucky in that this was the premises that came up, and also luckily the landlord was a guy I got on with when I met him.
Now opened ten weeks Tom says the reaction has been great. Designed by ABGC Architects, the décor is hip urban industrial chic, with salvaged dining chairs from a Parish Hall in North Dublin, but it's a friendly industrial chic atmosphere! "I'd never run a restaurant before, so it was very hard to visualize what it was going to be like handing a customer food or taking money out of his hand, all those things seemed so alien that I would compare the stress of the first week with when you are in the airport and for three seconds you feel like you've lost your Passport. It was that level of panic and stressed out over a full week so you just realize every day is going to be full of crises and problems - but sort it!
We are improving all the time to get where we need to be."
So guys, what are you going to be best at in your town or city?
Bunsen
36 Wexford Street,
Dublin. 2.
Tel: (01) 552-5408