Restaurant Review - Town Kildare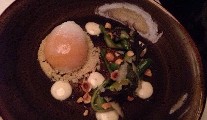 Tuesday 09 July 2013
Arguably one of Dublin's most talked about restaurants, Town Bar & Grill, was re-launched recently as a "high end casual restaurant" with the owner, Gillian Ronan, dropping the 'Bar & Grill' moniker for 'Town Kildare Street', and wheeling in a brace of chefs from two of Dublin's Michelin starred restaurants. Cathal Leonard was previously Head Chef at Chapter One, and Conor O'Dowd was Sous Chef at Lock's Brasserie. Located in the former cellars of Mitchell's Wine Merchants, Town was originally set up by restaurateur and chefs, Ronan Ryan and Temple Garner, and during the Celtic Tiger was spectacularly successful, seating the well heeled and glamorous, includingpoliticians, developers, media folk and celebrities.
The name portrays its city image well for, on our visit it had many groups of 'visiting firemen' – almost a touch of the United Nations. Décor wise it seemed the same but there is the addition of Jamie Belton as Manager. Belton was previously in Pearl Brasserie and Residence, and would be a familiar face to diners in what is the goldfish bowl of the D2 dining arena.
"I've always loved it here," said friend Rachel. So, what would two chefs from differing style Michelin restaurants come up with we wondered. Would there be a clash of cleavers in search of a Michelin Star for Town. What would they bring to the table – do they get to define a certain number of dishes each? I don't know, but certainly the food was up there. Starters €8.50 - €15 included pear and watercress veloute with truffle and quail egg, whilst smoked ham hock terrine was with wild garlic mayonnaise, parsley salsa verde and breaded Burgundy snails. I kicked off with a pretty as a picture mollusc 'chorus line' of chopped razor clam ceviche (€15), the shellfish du jour, in its dramatic long black shell, topped with flecks of colour enhancing ruby grapefruit, and crisscrossed with sea asparagus. Below that danced the colours of squid ink blobs, and a trio of well seared sweet scallop slices vying for attention. Rachel's starter had a very large duck egg yolk (€12.50) - cooked apparently for three hours sous vide to sticky perfection– sitting like a full moon in a hazelnut crumb, alongside a little Italianate foresty salad of asparagus, Pecorino cheese, truffle aioli, and Lardo di Colonnata.
Mains €19 - €30 included Daube of beef with a carrot and anise puree, whilst pan roasted hake was set off with a queen scallop, buttered spinach, and an interesting sounding Colombo spiced chowder. The de rigueur steak was an Irish Hereford prime rib steak whilst there was also a rather nice sounding pan fried fillet of Skate wing with basil puree and gnocchi, violet artichoke, Noilly Prat sauce and wild artichoke cream. Unfortunately, it transpired, the skate had already skated onto too many tables so I reverted to slow cooked Salt Marsh Duck Breast (€27.00). Glazed with sweetened spices, perfectly pink and delicious, the breast was lined up in two rectangles, surrounded on one side with roasted endive, and on the other by a warm 'salad' of poached rhubarb, mooli and radish, and green leaves. The other main, a stunning loin of rabbit (€27.00) was wrapped with smoked bacon, sliced and surrounded with sautéed langoustine, sweet onion, St. George mushroom and langoustine bisque. <ep>
Rachel followed up with an outrageously exuberant and gorgeous contemporary glass sundae dish of rhubarb and vanilla pannacotta (€9.5), Granny Smith apple, stem ginger shortbread crumble, whilst I ordered a trio of cheeses (€9.95) two of which I felt were over ripe so they took it back with apologies.
With a 500 ml carafe of Alsace Riesling, Domaine Paul Ginlinger (€18.50), bottled water (€3.90) and two coffees ((€6.90), our bill with service came to €132.30. Worth checking too is their Express Lunch – starters €8 and mains €14.
Town is stepping up to the plate again.
Town Kildare Street,
21 Kildare Street,
Dublin. 2.
Tel: (01) 662-4724
FIRST PUBLISHED IN THE SUNDAY INDEPENDENT
www.lucindaosullivan.com