A Kerry Odyssey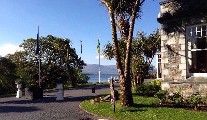 Monday 08 July 2013
'THE windows have been painted for the first time in 27 years and new boilers installed," said Tony Daly, managing director of the consortium of investors who bought Parknasilla Resort & Spa in Sneem, Co Kerry, at the start of this year.
We were standing outside the imposing grey stone mansion overlooking Kenmare Bay that is Parknasilla. The principal investor in the consortium is Jacqui Beaucaire, a Lebanese Swiss financier and member of the fabulously wealthy Safra banking family, who has also owned Garnish island for many years.
The price tag of €11.25m is a far cry from the €40m paid for Parknasilla in 2006 by Bernard McNamara, who then spent €35m adding a new wing, an underground spa, and some 62 holiday homes on the estate – but apparently never had the windows of the main house painted!
Yes, €11.25m is a snip for this 500-acre estate on the Gulf Stream, and we are all very glad to see it being retained and maintained.
Enniscorthy-born hotelier Tony Daly came to Kenmare in 1983 as a junior assistant manager to train under Francis Brennan in the Park Hotel. "I like to remind Francis that he, in turn, trained here in Parknasilla," Tony said.
Tony is also a director of Dream Ireland holiday homes. He has been in Kenmare for 30 years now, and he understands what Parknasilla means to the generations in the area who have worked there, and the generations of visitors for whom it is a place of happy family memories. "It is fantastic," he said. "We are really busy. People are coming back who were even here 20 years ago. We are so happy."
We have a few such jewels in the crown of Irish tourism, and they are really special places, but like everyone else in the tourism and hospitality industry, they have struggled over the past five years. Ashford Castle has just been sold to the Tollman family-owned group of Red Carnation Hotels, which should ensure its future. I have stayed in two Red Carnation hotels in London – the five-star Milestone opposite Kensington Palace, and the Chesterfield in Mayfair. Both are very personalised hotels with huge attention to detail from founder Bea Tollman. It is more like staying in a gracious country house in the heart of London – so hopefully this will be a perfect fit for Ashford Castle.
Parknasilla Hotel was formerly one of the great Railway Hotels of Ireland, then the Great Southern Hotel Group, which included what is now the Park Hotel in Kenmare, the Meyrick on Eyre Square in Galway, the Malton in Killarney and what was the Great Southern Hotel at Mulranny, Co Mayo. Many famous people have stayed at Parknsilla including Princess Grace, after who its premier suite is named. The staff here, too, were almost as well known as the guests! Tom Doyle was a former head hall porter, whilst Sonny Loony was former head barman and Jackie Moriarty reigned supreme as restaurant manager. All real characters of the tourism scene.
On our all too brief night at Parknasilla, we were again enchanted by the gracious ceilings and airiness of the diningroom. The food is excellent, nothing 'hotelly' about it, utilising the best of local and seasonal produce in a contemporary Franco Irish elegant style. The chef is Peter Farndon and the restaurant manager is the delightful John Foley.
Dingle white crab comes in a tian with ginger spiced melon, tomato and coriander oil, whilst saddle of rabbit is a stuffed rabbit roulade with cranberry and herb mousseline, roast garlic and rosemary rosti, pea puree, wild mushroom, cream sauce. Kenmare Bay Scallops come in a triumvirate, with Sneem black pudding bon bons, drizzled with a caper and raisin dressing, roasted red pepper emulsion and crispy capers.
Brendan opted for a duck consomme with a duck and vegetable wonton – light but interesting. Turbot for me was stunning, a fine fillet, served with a Parmesan-coated rectangle of polenta, cauliflower puree, braised leek and tomato and herb brown butter sauce, whilst Brendan also went for fish with a chunky fillet of pan-seared cod on a butter bean and root vegetable ragout, celeriac fondant and baby leeks. The wine list here is extensive and we went with a bottle of delicious Principessa Gavia Gavi 2011 DOCG. Parknasilla is at your service!
www.parknasillahotel.ie
Next morning we set off to have a look at Kenmare, where the second Kenmare Food Carnival takes place next weekend. It kicks off on Friday with traditional afternoon tea at Taobh Linn hosted by Kenmare Community Care, or you might fancy a pirates and seal pups picnic on Seafari Cruises.
Michelin-starred chef Derry Clarke will be doing a cookery demo at Kenmare Select whilst a vineyard affair takes place at Vanilla Grape and Truffle Pig. This all leads up to the Kenmare Parade and a weekend of fun, which includes the Kenmare Taste Trail, chef demos from James Coffey, James Mulchrone, Rozanne Stevens, Yvonne Carthy, and Kevin Ahearne of Sage Restaurant in Midleton.
The Saturday night dinners include a Mystery Tasting Dinner at the Park Hotel, a Chef's Table Dinner at Sheen Falls Lodge, and Carnival Time at Brook Lane Hotel. A Kenmare Carnival Cookbook has even been launched. Go and enjoy.
www.kenmarefood carnival.com
On our way into Kenmare, we stopped on the edge of the town at a bungalow B&B cum cafe called The Rose Garden run by Jerome and Vladimira Barbe. The attraction here is that chef patron, Jerome, from the south-east of France, bakes the most delicious cakes and pastries each day, which are all laid out on a big table as you walk in the door. Coffee, tea and hot chocolate were €2 and tartlettes, gluten free chocolate squares, and scones were from €1 to €3.50 with lunchtime salads such as Nicoise and Greek, plus quiches from €6.50to €7.50.
www.rosegardenkenmare.com
There are some fabulous shops in Kenmare and it's always worth a walk around the streets. However, I have to say I was disappointed on visiting two boutiques this year to find that the welcome was far from warm. I walked into each place, the only person in the shop, without the person in charge even acknowledging my presence. How do they think they will do any business in this fashion?
On a happier note, I popped into Simplicity Boutique on Henry Street where the young lady in charge could not have been more helpful, pressing leaflets of local happenings on me. It had a great range of colourful clothes including Ingenue, Divas, and Fenn Wright & Manson.
I crossed over the road then to Nest, a lovely eclectic store owned by Catherine Murphy. Here you will find super gifts and clothing, including Ilse Jacobsen raincoats, Alessi kitchen accessories, Orla Kiely bags, perfume and mugs, Ursula Celano, Max Benjamin candles, Hunter wellies, trenchcoats and flip flops and even floral hammers!
"I started at the beginning of the recession," said Catherine. "I started off as being eclectic but now I find every shop is doing the same thing. You have to keep trying to stay ahead of the posse – and I'm from here – but everything is competition. If you are a specialised bread shop or a pet shop, it is easier to keep going in a recession but in retail it is very tough. It's a bit of a vocation. The restaurants and the coffee shops do well because in the boom the restaurants took over from the pubs. We all have lots of good ideas but everything is very hard to do here, there are a lot of regulations and bureaucracy. You are grand if you are there for decades but if you want to start something new, it is very hard. When Sheen Falls started out, we had a very strong weekend trade in Kenmare. Dublin people would come down and stay in nice places, eat in the nice restaurants, and shop – but that is what has really changed. People don't really have it."
www.nestkenmare.ie
Leaving Kenmare, we drove over what is for me one of the most magical drives up over the mountains, through tunnels, past sheep on rocks, and down into Glengarriff. As we then drove upwards out of Glengarriff, and onwards towards Cork, I spotted Aine Murphy's Bayview Boutique Guesthouse and Jim's Coffee House. It was a real eye-opener walking through the doors into a large cafe with colourful sofas, lovely food, and the most amazing al fresco dining area with lots of parking and great views down over the bay. The coffee house is named for the late Jim Dowling, a well known musician and uileann piper – indeed, there was a festival for him last month in Glengarriff.
"He was from Dublin but came down here and opened a camp site," said Jim's daughter Aine. She has 10 lovely bedrooms decorated in French country style and has even had a couple of pop-up shops and shows with Gazelle hats from Bantry and the Millcove Gallery from the Beara Peninsula.
Another great fun Kerry Festival taking place next weekend is the Valentia Island King Scallop Festival. The festival will feature the crowning of Mr King Scallop 2013 as well as a huge range of events for all ages and interests including a children's triathlon, a rugby blitz, a cricket tournament and an angling competition. There will also be a display by the Valentia Island lifeboat and coastguard helicopter, a Blessing of the Boats, live street music, a craft fair and country market. Mr Fishy Fishy, Martin Shanahan, will be doing a cookery demo and there will be freshly cooked scallop tastings.
www.valentiaisland.ie
If you want to enter the Blas na hEireann Irish National Food Awards, which will take place at the Dingle Peninsula Food Festival from October 4 to 7, you need to have your entry in by July 15. Two new categories have been added this year – baby food and chef's choice.
www.irishfoodawards.com
FIRST PUBLISHED IN THE SUNDAY INDEPENDENT