Our Latest Great Place To Eat - Torrino's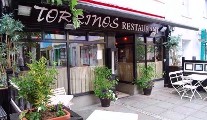 Wednesday 03 July 2013
Westport is one of the great destination towns for tourism and weekenders. It is a thoroughly attractive place with lots to do and see for the visitor. It also has some great shops and restaurants.
Tucked away on Market Lane, just off Bridge Street, you will find Torrino's Restaurant. The atmosphere at Torrino's is intimate, but also warm and very welcoming. Established in 1996, Torrino's has spent the last seventeen years serving it's patrons a wide variety of quality Italian foods and over the years has come to pride itself on it's consistancy of good food and service at a reasonable price. They are constantly changing their seasonal menu in order to showcase the best Mayo has to offer and at Torrino's they strive to use only the finest locally sourced and seasonal ingredients from Pat Grimes' organic salad leaves and vegetables, grown below Crough Patrick, to Padraic Gannon's famous mussels and clams.They even go so far as to include a list of their local suppliers and their products on the back of the menu.
On my last visit, starters included a Fritella filled with mushrooms, smoked bacon, peppers, onions, spinach, cream cheese and Mozzarella; a goats cheese crostini with Balsamic red onions and basil pesto; Clew Bay mussels were on offer with white wine, onion, chopped tomato and garlic while their Tiger Prawns came pan fried with a choice of garlic, olive oil and flamed with Brandy or a fresh chilli sauce. Brendan opted for the Calamari Arrosto slow roasted with tomatoes olives and capers whilst I ordered their Clew bay clams from their seasonal menu, which were steamed gently and served with white wine, cream and herbs. We were both in fishy heaven.
Read More: index.cfm/page/viewRestaurant/id/293