Restaurant Review - 1826Adare & Dunraven Arms Hotel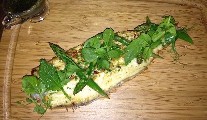 Monday 01 July 2013
A visit to Rick Stein territory in Cornwall proved a defining moment for Wexford born chef Wade Murphy and his wife Elaine. Wade Murphy is an experienced chef who in recent years has worked along the Western seaboard, both in Lisloughrey Lodge, and at The Lodge at Doonbeg. "We were sitting in a restaurant in Padstow, eating very simple food, and it was an Epiphany moment. We realized we should do something for ourselves - doing stripped back food." On their return they discovered that a very pretty thatched cottage restaurant, owned by, and opposite the Dunraven Arms Hotel in Adare, had become available and so Restaurant 1826 came about – 1826 being the year these cottages were built.
We were in the first of three rooms opening onto the back garden. With chic painted tongue and groove backed banquette seating, painted stonewalls, and vibrant artwork - it is a lovely space. The menu offered five each good starters (€8.25 - €12.50) and mains (€18.50-€29.95), featuring local and organic produce. Liscannor crab cocktail was with tomato gazpacho, petite herbs and chive oil, whilst mustard and coriander cured line caught mackerel was with baby potatoes, watercress, and horseradish crème fraiche. Delicious crumbled St Tola Inagh goat's cheese (€8.25) was scattered like snow over organic greens, rolled ribbons of cucumber, beetroot puree, tomato, mini flatbread circles, hazelnuts, and dressed with a citrus shallot vinaigrette. Castletownbere scallops (€12.50) were topped with brown bread crumb and air dried Connemara ham, baked in the shell, presented on a bed of seaweed. Delicious but perhaps a tad petite at the price.
Mains included Dry Aged "Cowboy Steak" of Garret's Irish Angus beef with duck fat chips, green herb butter, and caramelized onions, whilst 'brick fried' boneless half chicken had roasted shallot, wild mushrooms and crisp pancetta. Himself quickly hopped on a rare breed pork chop (€19.50). A fine chunky specimen of Tipperary's best loin chop had been brined and cooked to perfection , brown and crispy on the outside, pink and delicious on the inside. It was sitting on rainbow chard, with apple and ginger chutney, slivers of apple, beetroot, currently fashionionable crispy chicharrons (feather light lacy puffballs of deepfried fat) and Romesco sauce. I had a 'special' of superb sole on the bone (€30), beautifully seared on each side, served on a board and overlaid with green asparagus tips and mixed green leaves. We were also brought fab chunky fries, carrots and cauliflower cheese.
We resisted the temptation of well priced puds (€6/€6.50) including Elderflower and crème fraiche tart with strawberry sorbet, and rhubarb and brown sugar meringue 'mess' with vanilla Chantilly.
With a bottle of fresh citrusy Cotes de Gascon Domaine Horgelus 2012 (€25.50) Sauvignon and Gros Manseng blend, and a bottle of still water (€5.95), our bill with service came to €110.70. 1826Adare is a chic little spot doing upmarket contemporary casual food. Well worth a visit.
We stayed the night in the absolutely superb Dunraven Arms Hotel, which is a total bastion of hospitality, charm, good food and exceptional service. Owned by Louis and Bryan Murphy, it is one of those historic family hotels where service and attention to detail are to the fore of their operation. We were in a delightful room with a four poster bed, where we slept like a dream, before descending to the Maigue Restaurant for their legendary breakfast, which includes freshly carved ham off the bone, and a range of breads and patisseries which you won't see anywhere else. Everyone has stayed at the Dunraven Arms, from Princess Anne to Michael Douglas and Catherine Zeta Jones to Michel Roux. On our recent visit the place was alive with glamorous ladies after a Charity Lunch, and Legal Eagles on a conference - and we all know how they like their comforts and grub as they review their briefs! It is the perfect place to be pampered and chill out, and after a tour of the fab local boutiques, enjoy the who's who of comings and goings in the Hunter's Bar.
FIRST PUBLISHED IN THE SUNDAY INDEPENDENT ON 30TH JUNE 2013.