Nobo Dairy Free Icecream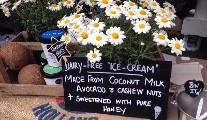 Monday 01 July 2013
DUBLINERS Brian Nolan and Rachel Flynn will become Mr and Mrs Nolan this coming October, but, notwithstanding the excitement of wedding plans, they have just established a new food business, Nobo, which is ice-cream with a difference.
God be with the day when all we had was a block of ice-cream cut and eaten between two wafers and raspberry ripple was viewed as total exotica. Nowadays, we have our tastebuds tickled, for there are some wonderful ice-creams being made by small producers around the country, with flavours such as salted caramel, pistachio, calvados, green tea – it seems as if any flavour or substance can be made into ice-cream.

What is different about Brian and Rachel's Nobo ice-cream is that it is dairy free, and gluten free, with no additives. Healthy, handmade and totally pure is their mantra. It is made from coconut milk, avocado, cashew nuts, and sweetened with pure honey. After that the individual flavours are added.

On the Sunday I met them in the People's Park market in Dun Laoghaire, the flavours de jour at their stand were coconut and vanilla, fresh lemon, roasted strawberries and chocolate and toasted almond – all just delicious.

"We moved to New York about five years ago and stayed for a few years," said Brian. "Over there we were exposed to all sorts of alternative foods and it was an eye-opener in terms of the food world. We then moved to Italy and worked in a restaurant for five months. It was in the middle of nowhere, beautiful countryside, in Emilia-Romagna, near enough to Modena. It firmed up our intentions to go into food."

Brian's background is in finance, which is what he was working at in New York, while Rachel was in marketing. "I went over and worked with WeightWatchers in the marketing department and then with publisher Conde Nast, so we have had a complete change of career," said Rachel.

However, they have both always really loved food, and Rachel was interested in health and nutrition. "I started reading more about dairy, and cut it out of my diet. Ice-cream never really agreed with either of us, so we just had this idea that there would be a way to make something that was really pure and a healthier version of ice-cream.

"From there on we started experimenting with how we could actually create it. We don't use syrups, stabilisers or gums or anything. It is not suitable for people who are allergic to nuts. It is suitable for people who have egg allergies or milk obviously. We have to use some fat because otherwise it is not tasty, so we try to make it the better fats for you."

Brian and Rachel are now based in the Spade Enterprise Centre on North King Street in Dublin, where they make it all themselves. "We are getting some new machinery there. At the moment we are quite small, but we are trying to scale it up because there are a number of shops interested in stocking it but we just can't actually make enough at the moment," said Rachel

"We got into the Foodworks Programme with Bord Bia, Enterprise Ireland and Teagasc, which we finished about a month ago. It was a nine-month programme which selected about 30 food ideas that would be high potential export ideas, and then they reduced it down to 10. We got through both stages and it involved a business plan and mentoring and so on."

Go taste their ice-cream, it is simply delicious. No bo – cow – geddit!
FIRST PUBLISHED IN THE SUNDAY INDEPENDENT ON JUNE 30 2013