New Head Chef at Aghadoe Heights Hotel & Spa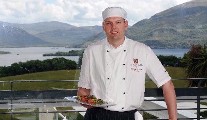 Monday 01 July 2013
PRESS RELEASE
HEADING FOR NEW CULINARY HEIGHTS AS INTERNATIONAL CHEF SEBASTIAN SCHULZE HEADS THE BRIGADE AT AWARD WINNING 5* AGHADOE HEIGHTS HOTEL & SPA, CO KERRY
For immediate release: Monday, 1 July 2013
The Aghadoe Heights Hotel & Spa is now one of the most exciting places to dine in Co. Kerry.
The Lake Room Restaurant and Heights Lounge have a refreshing new look menu created by Head Chef Sebastian Schulze. Sebastian joined the team in early March 2013 and has swiftly become a valuable asset to the brigade. With an impressive list of international experience under his culinary belt, Sebastian Schulze has taken a confident control of the kitchens at The Aghadoe Heights Hotel & Spa and is proud to introduce his new summer menus.
Hailing from Germany, Sebastian started his culinary training at the top with 18 months in one of the most impressive hotels in Germany –5* Brenner's Park Hotel in Baden Baden. Following this he went to train at the Hyatt Regency in Cologne and then 18 months at the beautiful 5* Bellevue Palace in Bern, Switzerland. Moving into the resort hotel arena, Sebastian gained fabulous experience at 5* Vila Vita Parc in Portugal and then came to the UK where Sebastian was one of the founding team members of the Glasshouse Restaurant in the critically acclaimed Grove Hotel London. From there he spent six months studying back home in Germany to achieve his Masters Degree in Culinary Arts.
Moving to Ireland and three years at Doonbeg settled Sebastian's 'gra' for travelling when he met his beautiful wife Lisa. They are now happily married for the past two years and have anchored their roots in Beaufort Co. Kerry with their two dogs 'Minnie & Rua'. Growing up Sebastian was an accomplished oarsman holding title of champion rower in 1988. Now he settles for a less energetic pastime of a few holes of golf whilst contemplating his next menu. His only other ambition was to be a train driver.
Now with over 20 years experience under his belt, with chefs such as Lauber (Bellevue Palace Switzerland) and McGrath (Doonbeg) as inspirations, Sebastian feels it is time to express his passions and abilities by taking Aghadoe and the Lake Room Restaurant to even greater culinary peeks.
Sebastian's philosophy for food is quite straightforward, by using the freshest of locally sourced produce and the expertise he has gained by working around the world, he can marry both to come up with some of the most extraordinary dishes that he and his hand picked team can execute to the pinnacle of culinary values.

"Sebastian brings a wealth of international 5* resort experience and he has quickly become a valued member of our team. He brings a refined approach, consistently championing and enhancing current seasonal produce, much of which is sourced from local and Irish suppliers" said Marie Chawke, General Manager
"It is great to have this opportunity to showcase my experience and also work with some terrific locally sourced ingredients including Bia Na Ri Organic Saint Tola Goats Cheese, Skeaghanore West Cork Organic Ducks and Spillane's Seafood Wild Fresh Fish and Shellfish " said Sebastian Schulze, Head Chef.
The team have totally enhanced the menu adding some fresh and modern twists. Sebastian's new Summer Menu reveals a strong commitment to Irish suppliers and a confident approach to providing excellent food. As well as classic favourites, the menu features exciting new options such as Starters of; Seared Beara Scallops, Curried Cauliflower, wasabi crouton, carrot and coriander dressing; Roasted Pear Salad Blue cheese, aceto balsamic, herb oil and summer leaves; Cold Spiced Beef Fillet Carpaccio; Asian salad and spring onion dressing. Pan Fried Quail, Asparagus salad, summer fruit chutney, grapes and verjus; Marinated Mackerel Escabeche vegetables; Tian of Dingle Crab Meat Scented with lime, apple, coriander and avocado mousse; Crispy St. Tola Goats Cheese Mediterranean vegetables salad, beets and olive tapenade
Mains course options; Pan Fried Fillet of HakePeas, spinach, confit cherry tomato and light buerre blanc sauce; Crispy Pork Belly Panache of summer vegetables, calvados roasted apples and cider jus; Warm Lobster Salad Truffle gnocchi, wild mushroom, samphire and lobster bisque; Honey Roast Skeaghanore Duck Breast, Carrot and coconut, roasted peaches and chimichourri dressing; Roast Fillet of Wild Turbot Broth of clams and mussels, baby fennel, Ring of Kerry Lamb; Herb crust, polenta, olive tapenade, baby aubergine and thyme jus; Pressed Duck and Foie Gras Terrine Baby pear, date and raisin chutney and warm brioche; Oxtail croquette, shallot chutney, green celeriac puree and red wine jus.
There's also a delightful intermediate course option of Sorbet or Soup of the Day plus a fabulous new dessert menu. In addition there's a vegetarian menu plus plenty of options for diners looking for gluten free options.
A fantastic new wine list has been carefully selected to compliment the new menu plus a varied selection is available by the glass. The option to select a glass gives guests great flexibility, particularly to match wines to courses. The Wine selection has been thoughtfully compiled to provide an extensive choice of exquisite wines from some of the world's best-known producers and some small specialist growers.
The Heights Lounge mirrors what is happening throughout the restaurant, seamlessly blending traditional and well-executed favourites with new ideas. The ever-popular morning and afternoon dining options have been updated to include a varied selection of delicious snacks and main meals. The new "Tír Na nÓg" children's menu is packed with fun and healthy options and the novel 'Prince & Princess' Tea Party will be a sure fired hit with all the VIC's (very important children).
Visit www.aghadoeheightshotel.com