Our Latest Great Place to Stay - Hampton Hotel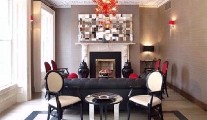 Friday 28 December 2012
One of my best friends lives in Co. Wicklow and her favourite treat is to overnight in the Hampton Hotel when she comes into town to the National Concert Hall or to a restaurant. In fact, she only lives barely over the border of Co. Wicklow, and could indeed get a DART home, but she just loves the overall experience of staying the night 'in town' and the Hampton Hotel is her hotel of choice.
This, of course, is what the gentry did in the old days – had their country homes and their town houses in Dublin for the social season or visiting the city. It is more than possible that the six magnificent Georgian houses, which make up The Hampton Hotel, were in fact the city residences of the great and the good.
For many years this was known as Sachs Hotel but it changed hands some four years ago and it is now a chic 4 Star boutique hotel offering all the comforts and style one could possible want on a visit to Dublin. The upmarket location could not be better and it is superbly convenient for fashionable restaurants and pubs, which abound nearby; it is perfect also for visiting the R.D.S, the Aviva Stadium, the National Concert Hall. There is parking at the hotel but the bus also passes right by the door which will whisk you into Grafton Street and the upmarket shopping areas in 10 minutes –or else you might enjoy the stroll through Dublin's historic leafy streets.
READ ALL ABOUT THE HAMPTON HOTEL ON THE GREAT PLACES TO STAY SIDE OF MY WEBSITE.
ENJOY
LUCINDA