Restaurant Review - Damson Diner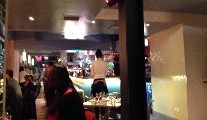 Monday 17 December 2012
Adding another vast hip new eatery to what has euphemistically been christened the Creative Quarter, the Bereen brothers have just opened the Damson Diner in premises where they previously ran the South William Urban Lounge. Marc and Conor Bereen also gave us the popular eponymous 'Coppinger Row' around the corner. Located over three floors, the Damson is an urban retro 50's style diner, with all the bells and whistles of today's take on the Ricky Nelson and Buddy Holly era. The long narrow ground floor has an open kitchen and bar on one side, whilst upstairs has a colorful plush eatery. We opted for downstairs, which on our visit was the hub of activity - and where we could see all the comings and goings! God knows, there were plenty of those as we were beside a door which led to the loos, and the nether regions of wherever. There was a constant stream of waiting and kitchen staff crashing through with dirty dishes and pots and pans. "You'd think they'd have a Dumb Waiter", I said, as another big catering tray went whirling by. 'They have," Brendan replied, he's wearing a T Shirt that says "On Tour" on the back!
We were in a corner with dark metro tiles, which had Himself also smartly, saying it reminded him of our new wet room. I am sure DD will be a huge hit; there was a lot we liked, a couple of things we didn't, but the former outweighed the latter. American/Asian cuisine is the gig here and whilst the 'American' cuisine was ace, we felt they hadn't quite got the handle yet on the Asian element. Whilst it looked nice enough, it was wishy washy with the pungent flavours of Asia and other elements in absentia. The menu is divided into three sections 'In a Bowl', 'Bites', and 'From the Grill'. The former two sections included steamed mussels, Californian Halloumi and Bangkok chicken salads, Chinatown chicken wings, and Asian or American ribs – it's all in the sauce guys – not the beast! Bowl or Bites prices ran generally from €11.50/€13.50, apart from Fennel Bhaji €7, and chicken wings €9.50. Grill offerings were €12/€22.50.
Brendan kicked off with Fennel Bhaji (€7.50), little crispy dry blobs of the deep fried vegetable with a sharp mango and lime dressing – 'pleasant enough' – he said. I had Siam Duck (€11) - three little nests of lettuce leaves holding a teaspoon-sized blob of duck mixed with a peanut sauce. Lined up like '3 Little Maids from School' they were prettily dressed with pickled cucumber, radish and micro leaves, but were too bland and dry, and struck me as expensive. On the other hand, Brendan's chargrilled rib eye steak at €22.50, with a big bowl of chips, salad and brown sauce, was cracking. The steak was a good size, tender, moist and delicious. The chips were bang on, and I was very glad to dip into his bowl to augment my choice of grilled sea bream (€15.50). Chargrilled on the bone, and served with steamed Bok Choi, it was napped with a thin 'Vietnamese dressing' which was totally ineffectual. It was a chilli dressing of some sort but there was no much taste of anything, sweet, sour, sharp or pungent, whilst the steamed Bok Choy, although perfectly cooked, just made the whole dish even more watery.
The waiting staff were delightful - with a subtle push on the drinks before we ordered – Damson Diner berry infused spirits being the thing here! 'Foraging' is all the rage again – you'd think our granny's didn't grow up on Sloe Gin and blackberry jam! I didn't like that wine is only available by the bottle with only three or so of each colour by the glass – no 50cl carafes or half bottles. I was on the house filtered water (€2) so Sir had two glasses of the house red at €5.50 a pop as I was too mean to pay €8.50 a glass for the wine recommended by the waitress. "What's it taste like', I asked, him. "Plonk" he replied, taking another swig.

Our bill with service was €75.00
Damson Diner
52 South William Street,
Dublin. 2.
Tel: (01) 677-7007