Restaurant Review - Asador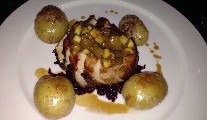 Monday 10 December 2012
On its second night, Asador was already awash with bright young things hanging off the cocktail bar, as we rolled up to try it out. With Twitter and Facebook, the drums beat loudly nowadays revving up the hordes who descend like a swarm of mosquitos to pick over newest happenings before the knives and forks are even unpacked! Asador is a barbecue restaurant, but forget rough and ready, this is a sleek urban spot with cream banquettes, semi circular booths, and ever smiling pretty waitresses dressed in cute red gingham shirts and aprons. With an open kitchen at the end of the L shaped room, you can see the chefs working on the 7ft Asador grill suspended over fires of oak, apple and lump wood charcoal.
The people behind Asador are Shane Mitchell, Rebecca Murray of the La Stampa family: business man John Quinn; the Head Chef is Eric Mooney, and the General Manager is Richard Huggard. Mitchell was previously with Peploe's on St. Stephen's Green; Mooney worked with the One Pico Group, as well as Chapter One, whilst Huggard was with the Burlington Hotel and more recently Residence on St. Stephen's Green. A fairly experienced bunch I guess. The location is good; the whole Upper Baggot Street area is popular, and it is a stone's throw from the junction of Haddington Road and Shelbourne Road which has built up a cluster of hip pubs and eateries.
Our American waiter was most attentive an informative organizing us a brace of Caipirinhas (€10 ea) in jig time whilst we took in the menus. Starters (€7/€12) included the ubiquitous Chicken wings, as well Prawns Pil Pil; Goats cheese tart; Mozzarella 'Burrata, and Carpaccio of beef fillet. Potted crab (€9) in a tubular shape mini glass clip top preserving jar, had a quenelle of chunky cornichon mayo, lemon and cress. Looking very 'clean', it tasted well, if slightly awkward to negotiate. Lightly grilled Morteau sausage (€8) for Rachel, had a really cracking flavour. Paired with potato and spring onion salad, it was tweaked with a trio of pickled girolles, adding further texture and flavour.
Steaks are highlighted here as the star of the show, priced from €22 for a dry aged rump to €32 for a 12 oz rib eye with various sizes and varieties in between as well as Cote de Boeuf for 2 at €55. Obviously in a barbecue or grill restaurant we wanted to try foods grilled on the asador but we felt steaks were steaks, we could see them at neighbouring tables, so we decided to road test their other options. Eschewing sticky spare ribs, a burger, grilled swordfish, and 'Salt & Pepper' prawn risotto, Rachel went with Adobo rubbed pork loin (€16). A good chunky specimen, it was sitting on pickled red cabbage, the meat was sliced through and dressed with delicious diced apple 'chutney' breathing aromas of allspice, and finally it was 'squared off' with a quartet of chargrilled potatoes. 2012 has been a great year for lobster, from lobster burgers to lobster rolls, so with our delightful American waiter telling us on asking that "it was Native Lobster" from a great supplier, and a good size, I opted for a half lobster at €22 (whole lobster €38) grilled with garlic butter. Oh dear, it was tiny, not good enough, and if I had paid €38 to have its other half as well I would have had but three or four more small bites – I would have been furious. What I had would have made a nice starter. The accompanying frites were good. "A baby lobster - its like a big shrimp", said Rachel, as she chomped away on her pork. I was very glad of the side orders of sweet potato and maple mash and crispy onion rings (€4 each).
Rachel had a chocolate cheese cake sundae (€8), an innocuous combo with a fairly bland icecream, before we moved on to share a decent cheese board (€12) of Triskel Ash goats cheese, Ardrahan, and Crozier Blue, served with fresh figs, grapes and chutneys. With a crisp bottle of Piemontese Gavi DOCG, Picollo Ernesto, 2011 (€31) and service out bill came to €147.40
Men love the sight of a grill, hunks of meat, and pretty girls. Its a smart place and, mini lobster apart, there's a lot to like here.
Asador,
1 Victoria House,
Haddington Road,
Dublin. 4.
Tel: (01) 254-5353