Our Latest Great Place to Eat - Indie Spice - Sandymount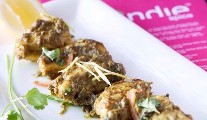 Thursday 06 December 2012
I have a passion for Indian food, the spices, the aromas, and the colours, which are rarely seen to the same extent in any other cuisine. In fact, I sometimes wonder why I wasn't born on the sub-Continent instead of freezing in this part of the Northern Hemisphere. Indeed, when not working, I do my best to keep my local Indian restaurants in business! I first developed my tastes for Indian food in London many years ago where I was working. For many years, the Indian food we were attuned to in Ireland was pretty mediocre but now we have some wonderful Indian restaurants serving delicious authentic food with a modern twist. Indie Spice has grown in the past couple of years from having one restaurant in Belfast to now having three branches in the South.

Indie Spice Sandymount opened relatively recently in the heart of Sandymount Village and has been going down very well with locals. It is a large comfortable and colourful space on the first floor and offers an extensive menu with all your favourite dishes.
READ ALL ABOUT INDIE SPICE - SANDYMOUNT - ON THE RESTAURANT SIDE OF MY WEBSITE.
ENJOY,
LUCINDA