Dublin's Hot Dining Pitstops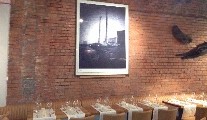 Thursday 20 December 2012
There's a lot of talk about online shopping for gifts this Christmas but, frankly, nothing beats the feel of the 'real thing' in your hands, the buzz of choosing those gorgeous gifts, being able to touch or smell them, pondering on whether it should be this colour or that, comparing one against the other, and no risk of a mistake. Nothing beats the excitement and atmosphere of being in Dublin in December with the Christmas lights, the windows all of a bling! Of course one also has to have lunch on the big day out and it might as well be a cracker. This year in particular has seen a plethora of hot new eateries opening around town. Many are in what is known as the Creative Quarter encompassing South William Street to South Great Georges Street and the streets that link them. There are also interesting little shops and boutiques as well in this area as well as being close to mainstream stores.
The hottest opening this autumn, also in this area, is undoubtedly Dylan McGrath's 8000 sq ft eatery, Fade Street Social. One section is a Gastrobar serving a myriad of small plates, tapas and snacks, priced anywhere between €5/€10. It is the eclectic variety and innovation here, a bit like eating an Indonesian Rijsttafel, that appeals to me. To mention but a few, octopus is rolled flat in herbs, tweaked with Spanish ham brushed with pork fat and scented with rosemary; corned beef crumbed is with white turnip puree, whilst whole sesame spiced soft shell crab is with miso mayonnaise, crab and lemongrass dipping sauce. Fade Street's second in house eatery sees McGrath focusing on the best of Irish produce, a mix and match concept too, plates for sharing, and dishes such as veal Blanquette, Irish stew, casseroles, around the €17 mark. www.fadestreetsocial.com
Around the corner in South William Street, the ultra cool Eden Bar & Grill have cracking main courses around the €10/€16 mark including pork belly with truffle mash and chilli squid; duck and sage sausages with roast apple, boudin noir, mash and red wine jus. If your fancy is just for a starter and pud there are great options there too. They also have a 3-course Christmas Lunch Menu at €24.50 covering the traditional favourites of turkey and plum pud.. www.edenbarandgrill.ie Up the street, the 3-storey Damson Diner, an Asian & American Diner style eatery, opened just last month. The lunchtime gig here is 'In your Hand' or 'In a Bowl' with Philly Cheese Steak or Fennel Bhaji amongst the former, and Boston Fish Chowder, Chili Con Carne and Bangkok Chicken salad amongst the latter. Prices €7.00 - €13.50. www.damsondiner.com
San Lorenzo's on South Great George's Street, is a hot New York Italian style eatery where Temple Garner serves up really good food such as scallops al forno and Chianti 8 hour slow cooked short rib of beef with truffle polenta. SL have a Christmas lunch menu priced at €14 for 1 course, €19.50 for 2-courses, and €24.50 for 3 courses from 12.30pm to 3pm. In addition for December they have a late lunch menu from 3 pm to 5.30 pm – great idea with mains around €16. Get the shopping over and then relax! www.sanlorenzos.ie A real little find on Stephens Street Upper, off George's Street, is Eastwood & Mays, a deli and café. Here they do great roasts in a roll such as roast leg of lamb with salsa verde on white or granary bread around €6.95. They also do delicious hot dishes such as venison sausages, red onion jam, and roasted potatoes at around €11. www.eastwoodandmays.wordpress.com
Saba Thai and Vietnamese Eatery on Clarendon Street is ever popular. Prices range here from appetisers at €5.50 to noodles and curry dishes around the €10.50 -€12.50 mark. I could eat their Phad Thai noodles every day of the year! They have a weekday 2-course Express Lunch at €13.95 from 12-3 pm. They also have special Christmas 3-course lunch menu at €26.95 which includes many of the dishes from their evening Dinner menu. Look out too for sleek beautiful 'Saba the Cookbook' which would make a lovely Christmas present for foodies. It is €30 with all proceeds going to Our Lady's Children's Hospital Crumlin and the Thai Red Cross. www.sabadublin.com
Bite, the hip 'Fish & Chips with Cocktails' eatery on South Frederick Street, tell me they won't be running their usual menu for the month of December but will be focusing on their Christmas 3-course lunch menu at €27.50. Mains include grilled fillet of seabream, roasted cornfed chicken with pumpkin, and slow cooked beef with roasted root vegetables, horseradish, parsley and shallots. Hearty stuff. Finish off with popping candy icecream and coffee. www.bitedublin.com
The other big restaurant opening this year is Jamie's Italian in Dundrum Town Centre. It has people queuing out the door to experience the cheeky chappie's Italian format of antipasti Planks and Plates, Pasta and Mains. Prices run from approximately €6 - €21. www.jamieoliver.com Also in Dundrum Town Centre is the fabulous Ananda Indian Restaurant and they have a great Shoppers Lunch menu 2-3 course at €20.99/€24.99. A starter platter gets you going and then follow up with Goan Fish Curry, or Lamb Biriyani or….. www.anandarestaurant.ie
Convenient for Henry Street is Koh Asian Restaurant with great Light Bites such as Gyoza, Meat Sung or Vietnamese rolls at €5 each – or 3 for €13.50. They also do lovely Thai curries around €10 and Asian salads in two sizes, as well as a 3-course Christmas lunch menu at €22. www.koh.ie
If you want to combine a really special culinary experience with your shopping trip to Dublin, the other big happenings on the dining scene was the opening of The Greenhouse in Dawson Street where Finnish chef Mickael Viljanen produces complex artistic dishes. They have a top notch Christmas lunch with 3-courses at €50 or a 5-course Tasting Menu at €69. Defo worth the experience. www.thegreenhouserestaurant.ie Viljanen didn't get the expected Michelin Star this year, many feel he was 'robbed', but Rory Carville did achieve a well deserved one at Locks Brasserie. Locks is open every day for lunch this month with a set menu at €35 to include terrine of foie gras, caramelized conference pear, ginger breadcrumbs and iced Verjus gel. You can follow that up with pheasant with chestnut and cranberry fluid gel, and truffled Brussels Sprouts! Now there's an idea for Christmas Day! www.locksbrasserie.com
Good shopping and eating.
FIRST PUBLISHED IN THE SUNDAY INDEPENDENT