Lyon's Cafe The Recipes - New Cook Book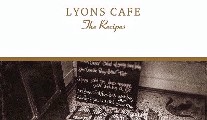 Thursday 29 November 2012
"Gary Stafford and the staff at Lyon's Café extend an open invitation to the launch of their cook book: Lyon's Café, The Recipes. The launch will take place in Lyons café on Saturday December 1st at 3pm with mulled wine, seasonal nibbles and music by the high energy bluegrass and roots band Rackhouse Pilfer. The launch will also support the great work of Sligo Cancer Support Centre, with 25% of all sales made on the day being donated to the centre.
The cook book provides the most delicious recipes from Sligo's ever popular and oldest café, a thriving culinary gem in the heart of Sligo town. Amidst the original 1920's art deco interior, customers choose from an ever changing menu of contemporary innovative cuisine.
After years of requests from customers for their favourite recipes, Gary started putting together this cook book three years ago and it is published now in perfect time to celebrate his ten year's at the café.
Gary Stafford says "The aim of this cook book is to give you a flavour of our busy kitchen and an insight into our daily routine. We hope you enjoy recreating some of our most popular dishes in your own kitchen".
Gary's recipes reflect the many years he spent travelling before coming to settle in Sligo. In particular his seven years spent in the middle east lend his signature dishes a unique combination of spices and flavour combinations. This mixed with great traditional baking and the use of local and excellent food providers has given Lyon's Café the deserved reputation of being a true culinary delight.
The book was designed by exceptional Irish designer Sean Lynch and all photography is by Lyon's Café's own very affable chef (and photographer) Darek Smietana.
We hope to see you all on Saturday the 1st December to celebrate the launch of this exceptional cook book and Sligo's quintessential café : Lyon's Café."