Restaurant Review - Lady Helen Room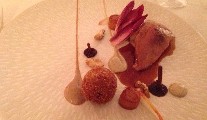 Tuesday 27 November 2012
The recessionary tightening of belts has brought about an extraordinary amount of innovation in the foodie world with new small food businesses, and value menus, particularly in Dublin. However it is important too that the spirit, creativity and ambitions, of young chefs are not lost in a sea of accountants' penny pinching, in a world that has become more difficult. There is a desire still for a bit of luxury in our lives, not just all sackcloth and ashes.
Mount Juliet, at Thomastown, Co. Kilkenny, is one of the most beautiful houses and estates in the country. Originally the home of the McCalmont family, who lived the Downton Abbey lifestyle, since their departure it has been an hotel very popular with golfers. Tiger Woods could be seen fishing peacefully on the River Nore a few years back– but I guess that's another world too! The food has always been good at Mount Juliet but the past year has seen their formal Lady Helen Room restaurant really raise its game to a different level and was recently awarded 3 AA Rosettes – a step in the right direction!
Cormac Rowe and Ken Harker, Executive Head Chef and Head Chef respectively, have come up with what is a cracking 8 course Tasting Menu at €65 per person, including a glass of Prosecco aperitif. However, Ding Dong, listen carefully, for the real Steal of the Day takes place on Thursday nights with their Taste of Thursday, when you can have the same 8-course Tasting Menu for €45 per person. PLUS PLUS PLUS - you can also overnight with bed and breakfast, including the 8-course menu, from €99 pps, with accommodation in the Clubrooms in the Hunter's Yard. Add on €25 per person for wine pairing – well worth it – you're on a winner. Tallyho
We sampled it recently and from the curry and cumin brioche to the duo of butter – plain or topped with seasalt – it was ace. Kicking off with a superb amuse bouche shot glass of artichoke veloute, chestnut foam and shavings, plus a mini bruschetta of chicken liver parfait to the side, we followed up with Red Leg Partridge, the breast pink and delicate on a stuffing base, with confit leg Cromesquis adding a crispy crunch layer of texture. The partridge was as good as it gets, paired with slivers of Pear William, walnut veloute, and a red cockade, it could hold its head up in any Michelin restaurant in the world, complex yet showing the wisdom of restraint. With this we had a Chilean Casa del Bosque Chardonnay 2009. Beetroot sorbet on a beetroot jelly with blackcurrant crisp ensued. Fillet of Duncannon Turbot was next up, slightly seared on the outside, moist and seafresh on the inside, sitting on a cushion of Beluga lentils. A 'surf 'n turf' element to this dish had perfectly seared foie gras atop a smear of carrot puree beneath a foam cloud, and to the side perfectly filled ravioli. The wine pairing was a Californian Cline Viognier 2010.
A climax was reached with the most perfect rondelles of venison loin, standing proud, lined up in a veritable autumn garden with colourful splashes of Muscat pumpkin balls, red cabbage, Brussels sprouts leaves, cocoa Nib Granola, and a Venison jus – memorable. We washed this down with a Cotes du Rhone, Cairanne, Domaine Boisson, 2009.
A perfectly judged light and refreshing predessert was followed by striking black and white minimalist 'picture' of tubular coconut parfait, encased in a spiral of spun sugar, on a length of Muscavado Sugar sponge with lime pastille. This was paired with Paul Jaboulet's Muscat de Beaumes de Venise, <
We finished with coffee and petit fours - mango pastilles, blueberry marshmallow, milk chocolate and hazelnut feulletine, poppy seed tuile, pistachio financier, coffee chocolate and a lemon macaroon!
Service was professional and informed, and particularly delightful from a young man. The menu at €65 is great value, at €45 on the Taste of Thursday it's a steal. There is also an a la carte menu.
With the new Taste of Kilkenny Food Trail just launched, of which Mount Juliet is a member, the Cats are really up and purring.
Lady Helen Room,
Mount Juliet,
Thomastown,
Co. Kilkenny.
Tel: (056) 777-3000