Our Latest Great Place to Eat - Flanagan's Gastro Pub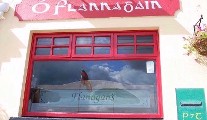 Sunday 25 November 2012
When I was a girl, all you could get to eat in an Irish pub was the proverbial butt of many a joke – the 'hang sangwich' – with a slice of fluorescent orange cheese slapped in the middle if you wanted it toasted! I was always fascinated then by how good the food was in London pubs when I would be over with the Mammy on shopping trips. We were regularly in pubs close to Selfridges where they would have big trays of wonderful cauliflower cheese, or Shepherds pie, Bangers and Mash and the like – but oh boy how we have caught up nowadays in Ireland. I travel the roads of Ireland very frequently and of course we have to eat. Contrary to many people's image of what a Food Critic wants to eat all the time, is not fine dining and twiddley bits on a plate, we want good honest food, well prepared and value for money. In fact I love Gastropubs for this reason and many of our traditional pubs have become really good Gastropubs over the past couple of years.

Flanagan's Gastro Pub is between Claremorris and Ballyhaunis in Co. Mayo, and we spotted it on our way to Westport one day. It has been a long standing family business but was taken over by Luke and Caroline Flanagan a couple of years ago and updated to include doing really good eclectic modern grub at good prices, with something for everyone on the menu.
READ ALL ABOUT FLANAGAN'S ON THE RESTAURANT SIDE OF MY WEBSITE.
ENJOY,
LUCINDA