Our Latest Great Place to Eat - La Raclette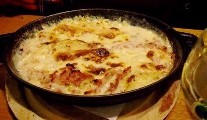 Sunday 25 November 2012
The times we are in have brought about a burgeoning of smashing small and interesting restaurants around the country. People want to be able to eat out at reasonable prices, and have a nice bottle of wine with their friends without it breaking the bank. One of these is the new La Raclette in Naas inspired by the owner's experiences in the French Alps. It is French mountain food and there certainly is nothing else here like it. If you like delicious scrumptious heartwarming food with cheese you are going to love it.

Any of you who have ever been off piste, or on piste ,may have already had the wonderful experience of having a Raclette dish to warm you up afterwards. Raclette itself is basically a wonderful cows milk cheese which is warmed and used in lovely tasty dishes of all sorts and varieties. It gets its name from the French word racler "to scrape". The different regions of France, Austria and Switzerland have varying dishes and interpretations – we all know how delicious melted cheese is on toast or on top of vegetable or other dishes but at La Raclette they take it to a much higher level than my simple efforts.

La Raclette itself is a cosy simple room with a warm heart. There is always a soup of the day, it might be a delicious French Onion Soup or vegetable. Country salads have baby leaf salad, lardons of ham, mixed with walnuts and Emmenthal cheese, or maybe rocket with roasted pine nuts, Balsamic vinegar and delicious Comte cheese. They also do a great potato salad with Cashel Blue cheese dressing, red onion and chives. Another starter plate, which I love is, Parma ham wrapped around a prune filled with Emmenthal cheese and topped with sesame seeds. You might want to start with one of these or mix and match, or share them. Follow up then with a lovely Tartine of goat and Blue cheese served on crusty oven baked bread and topped with onion marmalade and rocket. They also use the delicious Glebe Brethan cheese paired with chorizo as a Tartine this time topped with tomatoes and mushrooms. Another great dish is their Fondue Savoyarde which comes with a cracking side salad and great toasted cheese or onion bread – and there is never a bottle of wine too far away to wash it down.

They have a concise selection of suitable wines as well as Champagne and Craft Beers. It is the perfect place for meeting friends and relaxing in a friendly informal atmosphere.