Restaurant Review - Bamboo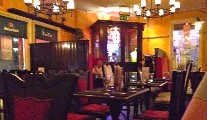 Wednesday 21 November 2012
"Do you have a voucher"? Asked the young waiter greeting me at the door of the 'new' BamBoo on the corner of Parliament Street facing City Hall. This was previously Salamanca Fusion – an offshoot of Salamanca Spanish restaurant on St. Andrew Street. He repeated the question again, naming two discount deal operations and, having ascertained that I hadn't, he pointed me to the "nice comfortable banquette then!"
I'd had a Press Release describing the wonders of BamBoo's Creative, Modern, Asian Cuisine, so was amazed to find it not only already using discount deals, but also to find the 'new' Bamboo was just a change of name and menu. Spanish music was playing away under the big Hispanic style light fittings, heavy chairs, red velvet banquettes of its previous life - we couldn't be further away from Asia - old or modern. Had I come too early I wondered, but no, it was the opening night, the old menu had "finished two days earlier and it was a new menu!" That seemed to be it!
The said new menu read not like "Creative, Modern, Asian Cuisine" as promised but a European take on Asian food for beginners – and tasted likewise! There was a section devoted to a quartet of unadventurous Norimaki sushi at €7.95 each including smoked mackerel, tofu, or salmon. There was also a 'Bamboo Sushi" section with a duo of Norimaki and Tamago at €9.95. My friend Rena and I opted for one from each section - Norimaki Tiger prawns, kimchee sauce, mayonnaise and avocado (€7.95) and Tamago seabass Kara Age (€9.95). Both were flush with rice, and the Norimaki had the dried seaweed wrap European style enclosing the inner filling rather than the traditional Japanese method of wrapping the entire roll in seaweed and slicing which gives a better crunch as well as holding it together. The Tamago didn't taste all that different save that it was wrapped in a loose thin omelette pancake type skin.
Our choice then was proceeding with either Asian Tapas or a Main Course selection. "What do you think of the main courses?" I asked Rena. "Well…..you have your yellow curry, and your green curry, salmon cakes, a steak, or tofu, - I'm not inspired." She summed it up. So, Asian Tapas it was. Priced at €7 each, 2 for €12, or 3 for €17, we went with dishes we generally like in Japanese and Asian eateries – Gyoza – little wrap over pork dumplings with a frilled edge; Pork Belly pancakes with greens and hoisin sauce; Gado Gado salad – an Indonesian mix of vegetables, noodles, hardboiled egg and a robust peanut dressing with a sweet sour chilli kick and, finally, Prawn and Bamboo Jijimi, a Korean style pancake with prawns red peppers and bamboo shoots. The Gyoza lacked the finesse, the wrapping was heavy, and the filling bland. The pork belly pancakes, cut in four pieces and standing proud, were loose and sloppy, and absolutely fell apart when touched, revealing in each lots of greenery and just two of the tiniest tiniest cubes of pork; the Gado Gado salad was pleasant but seemed to have been doused in a mayonnaise dressing – we couldn't get any sense of peanut or chilli, whilst the Korean pancakes were heavy and bland.
The dessert of the evening – a lemon and orange tart – was nice but tiny at €6.50. Overall, it was a heavy carb meal with a very low protein content which lingered with me the next day!
Two tables were occupied, one booth with a group of Asian girls, and the other by a couple who seemed to be involved with the restaurant. With a bottle of aromatic Moscatel Gewurztraminer Torres Vina Esmeralda (€24) our total bill with service was €79.40.
BamBoo would mystify any 'Accidental Tourist' lost and abroad in Temple Bar – Irish outside, Spanish inside, and Asian food. It needs to be one thing or another.
The pud, the wine, and the waiters were nice!
BamBoo,
38/40 Parliament Street,
Dublin. 2.
Tel: (01) 671-9308
FIRST PUBLISHED IN THE SUNDAY INDEPENDENT