Saba: The Cook-book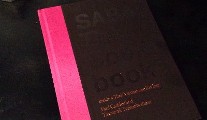 Tuesday 13 November 2012
PRESS RELEASE BY SABA
Saba offers the perfect Christmas gift for budding chefs at home! Add a little spice to your gifts this Christmas and pick up Saba: The Cookbook.

SABA: The Cookbook is not only a collection of great Thai and Vietnamese recipes from one of Dublin's best-loved restaurants, it is also the story of Saba.

Jammed with recipes from tasty appetisers to wok dishes and sides, from soups to curries and everything in between, this book invites you through the doors and into the kitchen and heart of Saba. The energy jumps off each page as you feel the ebb and flow of a passionate team doing what they love.

Written by owner Paul Cadden and Executive Chef Taweesak Trakoolwattana, this is the story of Saba's first five years. Authenticity is the key, and the food in Saba remains true to the origins of Thai/Vietnamese cuisine. It is beautifully illustrated throughout, and all the recipes have been tested in a domestic kitchen.

All proceeds from sales of this book will go to The Bone Marrow Transplant Unit in Our Lady's Children's Hospital, Crumlin and to The Thai Red Cross Society.

Published by SABA, it will be available from the restaurant, to order from www.sabadublin.com and from all good bookshops, price €30.

"Saba: The Cook-book is so beautiful you could leave it on your coffee table - if you could trust your visitors!!" Lucinda O'Sullivan, Food Critic, Sunday Independent.