Our Latest Great Place to Eat - Moloughney's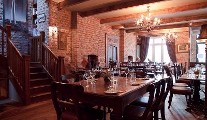 Saturday 17 November 2012
I have always been of the belief that good chefs are born not made! Of course they have to be trained but you do really know the difference between food that has been cooked by someone with a gift, and someone who is just doing a job. Two people can cook the same dish and, as we all know, they can be totally different, not only in presentation but in flavour and construction.

Liam Moloughney is one of the former. His food is not only accomplished and meticulously executed, it is delicious, lavish, and always moreish, which is why when he opened his cracking eponymous restaurant in Clontarf, it literally hit the ground running and has such a loyal clientele. Moloughney's has become the center of excellent dining in Clontarf from breakfast through lunch and dinner. There is a great ambiance and atmosphere too in this great restaurant located in what was a Victorian house just off the seafront. Redbrick walls and antique tables make this a classy place and led a feeling of being entertained in style.
READ ALL ABOUT MOLOUGHNEY'S ON THE GREAT PLACES TO EAT SIDE OF MY WEBSITE.
ENJOY,
LUCINDA