Restaurant Review - Fade Street Social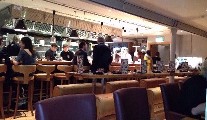 Sunday 11 November 2012
When the cream of Dublin's restaurant scene is out in force to check out a new arrival, you know it is major opposition! Such was the turnout to Dylan McGrath's new Fade Street Social eatery that it even included some of those who had challenged his drinks license application in Court that week. They lost! McGrath must have had a wry smile on his face!
The food world's man of the moment, McGrath is adored by legions of females as co-presenter with Nick Meunier on Masterchef Ireland. It's all a far cry from his initial appearance on our screens pre his Michelin Star at Mint in Ranelagh. He came across as surly and demanding but, as I wrote, I'd had it on good order that he was tremendously supportive of his team. Mr. Surly was in fact a good guy! Mint didn't work out for him as we hit the recessionary times and he moved on to open Rustic Stone, where I think I can say I was probably the only critic who didn't take a sneering pot shot at the fact that he had moved into a popular genre. Rustic Stone proved a tremendous success leading on now to Fade Street Social which is big, bold, beautiful and certainly not brash.
"This is what Dublin needs", said my dining companion Kate. "We could be in New York or Madrid– it's fantastic." The overall décor throughout is urban chic brick walls with expensive light tan leather seating. The first floor houses a very large clubby bar lounge for pre or post dinner drinks. The ground floor encompasses two eateries, a sleek tapas bar, with the chefs belting out a great range of stylish inexpensive small dishes and, backing on to this, an awesome contemporary brasserie style space. In the tapas bar you can perch at the counter, lounge on a banquette, or be sociable at communal high tables in between. Indeed it made my night watching a critic sitting shoulder to shoulder with a restaurateur he had recently savaged! Like two cats on a standoff they studiously ignored each other until, my oh my, after 15 minutes they were suddenly 'best' friends!
The menu is broken into sections - Grill Charred, Snacks, Carpaccio, Coated & Fried, Tapas From the Garden, and Pastries. Prices run generally from €3.50 - €10, with larger portions €16-€20 on some dishes. We seriously road tested it by kicking off with a veritable mini world tour! Chinese style whole soft shell crab (€10) was crisp and cracking in sesame spice flour, with miso mayo, and crab and lemongrass dipping sauces. Spanish style octopus (€9) was rolled flat on a board with herbs, tweaked with morsels of thin Spanish ham brushed in pork fat scented with rosemary, and served with black olive crostini. An American style scrumptious mini lobster hotdog (€9.95) sported succulent lobster meat bound in Béarnaise sauce in a brioche roll, whilst baby crab toasties with cheese (€8.50) were English 'soldier style' fingers with an Hollandaise filled egg shell and skinny fries drizzled with truffle mayo.
After a while we moved on to Skate wings (€10) charred with Lardo Crudo and Lyonnaise, squab pigeon (€9.50), and chargrilled leeks (€4.90. We loved the skate but the squab pigeon, roasted on coals with thyme and smoked bacon, we found a tad tough going although beautifully presented Moroccan style. The leeks were fab, dramatically presented whole, the root end sitting in hazelnut mayo with two boiled egg halves, with the leaves splayed around a big pottery bowl.
Did we have puds after that lot? We had to see them! Basil sugar doughnuts (€6.50) with lychee sat in a Chinese steaming basket with a mango dipping sauce on the side, whilst luscious chocolate mousse (€6.80)with hazelnut ice-cream had a raspberry 'glass' flag in a lovely upside down glass dish.
Wine is available by the shot, glass, carafe or bottle and we had a bottle of Sicilian crisp Borgo Selene 2011 (€25.90). With optional service our bill came to €111.05 – but boy it was a feast!
Can't wait to give it another lash!
Fade Street Social,
Fade Street,
Dublin. 2.
Tel: (01) 604-0066