Our Latest Great Place to Eat - Mitchel House Restaurant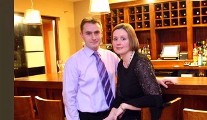 Tuesday 13 November 2012
One thing that always gets me off to a good start in a restaurant, apart at all from the food, is the welcome, and that you are always assured of at Mitchel House Restaurant. Michael O'Dwyer is a total professional and really knows what he is about when it comes to service and good food. He trained in Hotel Management at the prestigious Shannon College of Hotel Management and has worked in top notch Hotels in London and Frankfurt as well as back home at Ashford and Dromoland Castles, and was also General Manager of the Clonmel Park Hotel and the Clarion Hotel in Limerick.

He opened his restaurant in 2007 in what was formerly the family public house in Thurles and has been providing excellent food since then at jolly good prices.
Brendan Sheridan is Head Chef here; he is a Eurotoque chef, and the emphasis is on local and season produce with a real emphasis on quality.
READ ALL ABOUT MITCHEL HOUSE RESTAURANT ON THE RESTAURANT SIDE OF MY WEBSITE.
ENJOY
LUCINDA