Our Latest Great Place to Eat - Wasabi Japanese Restaurant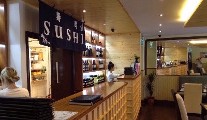 Monday 12 November 2012
I was never quite sure how I feel about Japanese food. I love sushi and the lightness and crispness of Tempura but, after that, I sometimes flounder around wondering what to have. Wasabi, is a new Japanese eatery on Malahide's Main Street, so off we set to try it out. Malahide is a village that is well catered for, from Indian to Mexican, Chinese to Seafood, Greek to Italian eateries, but a Japanese addition was bound to add a further multicultural dining frisson.

Located on the first floor over another restaurant on the main street, the welcome, from an Oriental girl and a local girl, was warm as we were brought to a nice table by the window. We'd limped into Malahide following a puncture on the coast road and were in need of kindness and we got it here in spades. Little cups of green tea ensued, followed shortly afterwards by miso soup with tofu. The menu offers a very big range of Sushi from Nigiri – the familiar oblong block of rice topped with raw fish - to Maki – rolls of rice, fish and vegetables enclosed generally in Nori seaweed wrappers. There is Sashimi – a Japanese delicacy of raw fish, and Tempura - lightly coated fish and vegetables deepfried.
REAL ALL ABOUT WASABI ON THE RESTAURANT SIDE OF MY WEBSITE.
GO AND ENJOY IT.
LUCINDA