Our Latest Great Place to Eat - Vaughan's Eatery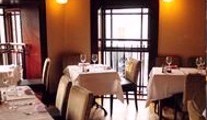 Friday 09 November 2012
Vaughan's Eagle House Pub has always been a landmark pub at the crossroads in the center of Terenure Village but in the last couple of years it has also become a landmark eatery. It is a place that combines the wonderful old historic atmosphere of a real Dublin pub but it is also a Gastropub extraordinaire - real gem. My better half, Brendan, loves the downstairs bar, like many men he just loves the veritable sight of a bar counter, but tucked away up a few steps, is a really sweet almost gallery style dining area which still retains the feeling of being part of everything.

Michael Sabik's food is accomplished and delicious using the best of Irish produce – you would expect it in any good restaurant – but in a pub you are really pleasantly surprised. I love this way of dining, really good food in a relaxed atmosphere.
READ ALL ABOUT VAUGHAN'S EATERY@VAUGHAN'S EAGLE HOUSE PUB ON THE RESTAURANT SIDE OF MY WEBSITE.
ENJOY,
LUCINDA