Our Latest Great Place to Eat - Ashtons Gastropub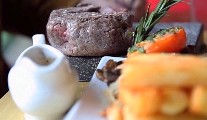 Monday 05 November 2012
Long before the word Gastropub was ever dreamt up in the nether regions of London's ECI at The Eagle on Farringdon Road, Ashtons in Dublin's leafy Clonskeagh had a reputation for good food that would give anyone a run for their money. In times of not so yore ago, when the best you could get in an Irish pub was the famous hang sangwich and a bowl of soup, people flocked to Ashtons for their wonderful range of delicious grub in comfortable surroundings overlooking the River Dodder. It has a huge following of loyal regulars who go there a couple of times a week in the sure knowledge that they will be well fed and can relax in their favourite Gastropub.

After 27 years in the excellent ownership of Gerry Farrelly, Ashtons was taken over in 2012 by Paul Lenehan and Ronan Kinsella whose aim and ambition is to carry the business forward focusing on value for money with consistency, service and quality. If they didn't do this there are very many people who love Ashtons so much they wouldn't be long in telling them!
READ ALL ABOUT ASHTONS ON THE RESTAURANT SIDE OF MY WEBSITE. GO AND ENJOY - ITS A GREAT PLACE TO EAT.
LUCINDA