Our Latest Great Place to Eat - The Purty Kitchen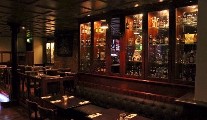 Saturday 03 November 2012
Living in the Borough of Dun Laoghaire, I am but a veritable stone's throw from the famous Purty Kitchen. The Purty Kitchen has been around since 1728, not in its present form I hasten to add, but it is the oldest pub in the great seaport of Dun Laoghaire but it is also the second oldest pub in Dublin. In case you don't know already, The Brazen Head at Bridge Street, in the shadows of Christ Church Cathedral is the oldest not only in Dublin but also in Ireland.
The Purty Kitchen changed hands just recently and is now under the same ownership as The Step Inn in Stepaside. The guys here are really intent on providing good contemporary casual food and the signs are good.
READ ALL ABOUT THE PURTY KITCHEN ON THE RESTAURANT SIDE OF MY WEBSITE.
ENJOY
LUCINDA