Restaurant Review - Vie de Chateaux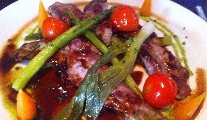 Tuesday 30 October 2012
We were in the north of France recently where I was struck yet again at how seriously the Frnech take lunch. In fact, everything seems to stop for lunch at noon; shopkeepers drag in their displays and close up shop on the button whilst workers descend on supermarket cafes. Driving along one quiet country road we suddenly noticed cars parked everywhere and then spotted what was clearly a popular destination for lunch with business people of the nearby town – so we joined them. It was an efficient good value bistro, serving great big sharing platters, with bottles of uncorked wine on the tables for diners to help themselves or not, and everyone was eating away as if their lives depended on it.
It felt a little bit like this as we arrived at Vie de Chateaux, a French restaurant, in what I can only describe as the nether regions of Naas, in a group of houses, beside a canal, with cars chock a block and diners chomping away.
There were three lunchtime options at Vie de Chateaux - Tartines – a large slice of bread oiled and dressed with various toppings, and salad. Served hot or cold at €8/€9.50, varieties included chicken fillet with bacon; Nicoise salad; sirloin of beef with sautéed onions; and chargrilled scallops with confit onion and sautéed wild mushroom. The second option was Les Grandes Assiettes, a starter and main course served on the same big plate at €17, or €23 with a glass of wine, and thirdly the A La Carte menu.
One word of advice; if opting for a Grand Assiette, make sure your dining partner does the same for, I had a Grandes ravenous 'co-ordination' wait – 40 minutes in my case - staring politely at an empty table mat! La Landaise Assiette offered Bayonne ham, beetroot, hard-boiled eggs, paired with confit duck leg with herb mash potato and orange sauce. L'Oceane offered smoked mackerel rillettes with toast and lemon paired with pan-fried fillet of sea trout, quinoa and tomato coulis. LGA per se are, I guess, a good idea for some; they cut down on service for the restaurant, and are probably speedy if you are on your own or both having them, but I am not sure I like my starter banged on the same plate to gobble up, whilst the mains bit goes cold as you look at it.
Brendan missing that a Tartine was really an 'open sandwich' full lunch, ordered one with Goats cheese to start which, at €8, was superb. A colourful mound had an array of sundried tomato, black olives, chorizo and rocket salad, sprinkled with chives and more mixed salad on the side. A good wait ensued before his a la carte main course arrived of pan fried duck aiguillettes at €24 – fairly hefty price – however quite delicious. The aiguillettes – duck fillet cut into long strips - were beautifully cooked and interspersed on the plate with strips of spring onions, asparagus, cherry tomato, carrots, and an orange sauce. Meanwhile I was getting really tetchy after forty minutes and asked where was mine. It was made clear that as Sir was having his starter, La Parisienne Grand Assiette for me was on hold until his mains arrived. Silly me, but I'm not sure why cos I could have been nibbling the rondelle of rabbit terrine and celeriac remoulade 'starter' at the same time. However, when it arrived, after his, it was delicious, a fine steak and frites, with chips and salad,
The only disappointment food wise was the dessert special of date pudding (€5.50). Draped in a blanket of chocolate sauce topped with a strawberry, I would have liked pieces of date throughout rather than just a steamed floury pud. With a glass of Rioja Crianza 2008 (€5.60) for Himself, our bill with optional service came to €66.10.
Hot food, cold service.
Vie de Chateaux,
The Harbour,
Naas,
Co. Kildare.
Tel: (045) 888478