Our Latest Great Place to Eat - Eala Bhan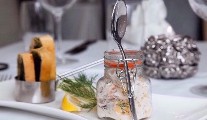 Thursday 18 October 2012
Some people just have the knack of getting things right and that can certainly be said of the team behind Eala Bhan. Anthony Gray and Cedric Roussilhe have long since put Tra Ban in Strandhill, Co. Sligo, on the culinary map of Ireland. They have now expanded this success to Sligo town itself with Eala Bhan, which means White Swan, and it has been proving a huge success. The décor has a cool urban brasserie bistro feel with dark wood floors, subtle lighting, well spaced tables, and it is a place in which there is always a buzz. Head Chef here is Seamus Thompson and the food too is classic with a contemporary twist and offers everything you could possible want, beautifully cooked viands to cracking seafood.

Starters include pan seared scallops, served in a cool contemporary way, in a line resting on a bed of spiced carrot puree, tweaked with micro greens and parsnip crisps. Slow cooked confit duck leg is served in the classic French style with Puy lentils, and duck liver pate on pain grille. Kettafi King prawns are light as a feather with a crispy crunch on mixed dressed salad leaves with lemon mayo and sweet chilli jam, whilst a brilliant Three Cheese Tartelette incorporates Brie, Goats cheese and Aged Cheddar, along with caramelized red onion, spinach, confit plum tomatoes, tossed rocket leaves and watercress salad. Everyone loves chicken wings and Eala Bhan do them really well in a rich sticky soya sauce with sesame seeds and chive crème fraiche. I love good sushi and here they do Irish smoked salmon sushi style with rice and crabmeat, rolled in seaweed, and served with a lightly spiced Wasabi sauce. Another great favourite, of course, is belly of pork and at Eala Bhan it is melt in the mouth, served with black pudding and truffle mash and a thyme jus.
READ ALL ABOUT EALA BHAN ON THE RESTAURANT SIDE OF MY WEBSITE.
ENJOY,
LUCINDA