A Booze Cruise to France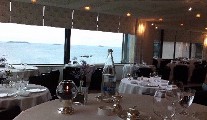 Monday 08 October 2012
With the season of mists and mellow fruitfulness upon us it is time to think like the farmers, harvesting and squirreling away goodies for the dark winter evenings, and the Christmas store cupboard. It is also Booze Cruise time, which, along with giving you a little break away, offers great fun and interest in buying wines in France. We have done this for years and have found that what we save on our wine purchases pays for the trip. We have stayed in very many of the hotels and Auberges around Brittany and Normandy so are well familiar with them and of course, being the nature of the job, I am always on the lookout for something new and interesting. This time was no different when we took a last minute trip a couple of weeks ago travelling from Cork, where we had been based that week, to Roscoff via Brittany Ferries.
September was still pretty busy around the coast of the North of France, still pretty expensive and, having made the decision only twenty-four hours before travelling, we only had time to secure our beds for the first and last nights. The first night because it was a Sunday and can be difficult in France to find a hotel with a restaurant open, – and the last night because hotels close to Roscoff can be heavily booked the night before departures. So that is a good tip to remember, also because a lot of the accommodation around that area is either very expensive or not exactly brilliant.
Over the years I have been offered rooms in an attic in Paris; beside a lift shaft on which they were working in London, and I have also stayed in four hotels where we have been evacuated during the night due to fire alerts, so I guess I am pretty fussy about the location of our room in any hotel, because they often try to get rid of the worst ones first!
So it was when we arrived at the Grand Hotel des Thermes, a massive 5 Star old style palatial pile overlooking the beach at St. Malo, at which I thought I would get us off to a good start on our little trip. This is a lesson in really read the small print and think. I booked an Internet Special on their website at €160 for the room, there was a cheaper room, plus breakfast at a hefty €22 each, a table d'hote menu €45 each at their 'gourmet' Cap Horn restaurant, Parking €14, and local tax €3, which would all come to €311. The booking printout however did give the room dimensions 22sq m and said it didn't have a sea view so of course I didn't expect a suite overlooking the sea, but neither did I expect such a small stuffy room with a view of back walls, overlooking where the staff came out to smoke! The room was in their new wing which it transpired did not have WIFI, a problem for me, and which you would expect in a 5 Star Hotel. The staff did not inform me that it worked in the rooms in the main part of the hotel! The receptionist said she could offer us a seaview room at something of the order of €590 for the night, to which I replied I was not a Russian Oligarch, and I hadn't come all that distance from Ireland to look out at back walls and watch their staff smoking. Eventually we were moved to a room in the main building which cost €204 overlooking the streets, where very friendly seagulls hovered on our window ledge looking for food. The restaurant was in a beautiful old style conservatory but again there was an impersonal feel as we arrived down at 7.20 pm and were told, like bold schoolchildren, by She Who Must Be Obeyed, that the restaurant didn't open for another ten minutes and left to wander outside to sit and wait. It would have been nice, in a 5 Star hotel of this so called level, to have been ushered to a table and given a drink! The food was fine but certainly nothing to write home about. www.le-grand-hotel-des-thermes.com
We were really looking forward to something simple the next night, and we found it, but first, before departing further east towards Mont St. Michel, we had lunch at Cancale, a popular spot close to St. Malo, famous for its oysters. We had been there three times previously, always lunching at Le Grand Large, a bustling restaurant with a covered deck, and a small simple hotel with 13 bedrooms from €39 to €75. We never fail to be gobsmacked by the size of the seafood platters which are served in boats. The French have that way of chomping nonchalantly through mounds of shellfish from lobsters to Bigorneaux and Bulots – periwinkles and sea snails – that takes hours whilst their pooch sits patiently under the table. www.hotelrestaurant.hotellegrandlarge.com
After lunch we headed east to Auberge de la Selune at Ducey, a nice old stone building, on the side of the street with lovely gardens by a river. Patrice and Sandra Girres have recently taken the helm following the death of Patrice's father and were very welcoming. Our modest en suite room was in the old French style but good value at €63 plus breakfast at €8.90 each. We felt really at home when we sat out on the terrace with a Kir to find a paper carrier bag 'O'Maille's Galway' which had been left by an Irish friend of Sandra's. I had a great value dinner here kicking off with aubergine terrine followed by ray with black butter for €16, whilst Sir had a half dozen oysters followed by a sirloin steak for €26.80. After dinner we had a drink with a couple from Greystones who were on their second visit there. The hotel also had fantastic WIFI. Our bill was €172.10 www.selune.com We were disappointed this year not to be able to get into Auberge du Terroir at Servon near Mont St. Michel. We discovered it about 5 years ago, when it seemed pretty well unknown, and have been there twice, but is now No 3 on the best places to eat in Normandy in a guidebook, and has a Michelin Bib, so is no longer a secret! Owned by Thierry and Annie Le Fort, it is a fabulous little stone built rectory type house and is definitely one to put on your list. www.aubergeduterroirservon.fr
Our next port of call was the uber cool 5 Star L'Agapa Hotel at Perros Guirec, a smart seaside town, with chic interior shops and boutiques. L'Agapa is part of the Small Luxury Hotels of the World Group and has a Spa and a Michelin starred restaurant Le Belouga. It's a black and white Zen world here with perfect topiary, wonderful views down over the magnificent Trestraou beach, and a glass elevator shaft that is lined with stills from old black and white Charlie Chaplin movies. The restaurant is cool, if a little restrained and silent. We had a Tasting menu at €87 immaculately overseen by a totally relaxed chap who told us he had worked around the world from New Zealand to Canada. Breakfast was a delight with a fabulous Head Waiter who breathed life verve and fun into his guests. I would go back to L'Agapa again but only if I had a room overlooking the sea – our room (€170) overlooked the garden – which we were told on departure was facing south and always warm – hence the fan over our bed. We also had no WIFI there – it was on the blink! Amazing how the two 5 Star hotels slipped up there when the simple Auberge had it down to perfection. Our total bill here was a not inconsiderable €420. www.lagapa.com

We headed then back to Roscoff to the Talabardon Hotel for two nights. It was a find. A family hotel of 4 generations, the son of the house, Jean Marie, had recently returned to take on his role of next in line, and he was a delightful chap. It had clearly been renovated in recent years and we had a lovely room with balcony overlooking the waters edge of Roscoff Harbour at €142 per night. The restaurant too was lovely and indeed we had dinner there on both nights. Our bill for the two nights was €622.60 www.talabardon.fr
People very often ask do we go around the different vineyards tasting wines and so on. The answer is no – we never have time – we are not pretentious about our wine - and we have found over the years that we have done very well at a large Geant Supermarket at St. Martin des Champs, on the Rosscoff side of Morlaix, which is about twenty minutes from Roscoff. They always have a huge selection of wines in cartons, or loose cartons available to fill. Morlaix itself is a historic town with an amazing dominating Viaduct, cobbled streets, and includes the 16thc Duchess Anne's House, which is a museum. Again it has a great selection of interior shops and boutiques and some nice little restaurants, Moroccan, French bistros, and Vietnamese cuisine.
If you are coming in and going out of Cherbourg, places that we have stayed and enjoyed include Hotel de la Marine at Barneville Carteret – the food here is superb. www.hotelmarine.com We also like Chateau de la Roque, an Auberge de Campagne, at St. Lo. Here the main event is dinner at €25 including Pommeau, wine and Calvados, served at a communal table headed up by Monsieur and Madame Delisle. Monsieur is a former Tour de France cyclist "mes amis Sean Kelly, Stephen Roche" he told us one time very excitedly when Madame enlightened him that we were Irish. www.chateau-de-la-roque.fr
Brittany Ferries sail from Ringaskiddy to Roscoff on Saturdays, returning the following Friday night, up to the end of October. www.brittanyferries.ie Irish Ferries have a great range of Wine Trips from Rosslare to Cherbourg. Four adults and a car can have return travel from €118 per person which includes two nights on board, and one night's ensuite room sharing in Hotel Campanile with continental breakfast. Two adults and a car costs from €150 per person for the same deal travelling out on Sunday and arriving back on Wednesday. A two night stay in Cherbourg works out from €186 per person sharing, and that option travels out on Wednesday and back on Sunday. These offers are available up to December 16. www.irishferries.com