Restaurant Review - Foodworks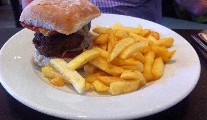 Tuesday 25 September 2012
I'm on about service again this week. Maybe I am just having a bad run of it but staff and restaurateurs should remember that a restaurant only gets one chance to make a first impression. Is there anything worse than feeling you are getting the cursory 'once over' as you approach a couple of staff chatting behind a reception point? No. You run your fingers through your hair, and wonder are your shoes clean! Rule No 1 for a restaurateur, never allow your staff huddle around together chatting. As we walked into the new Foodworks on Parliament Street, Kilkenny, a girl, sliding the menu off the counter, sidled away from her companion, and led us to a table in the corner. There was no feeling of welcome, more of going through the motions, but then another companion was too busy polishing the glass on her new shiny restaurant doors at 1 pm to notice that she should be FOH warmly greeting her customers instead of doing this in the middle of service. A big smile and the smell of food are far more enticing than the odour of cleaning materials!
Foodworks opens for lunch and afternoon tea Tuesdays – Saturday from noon, plus dinner from Wednesday to Saturday. Previously in a smaller and more out of the way location, they have recently moved into a smart new premises, a converted Bank building, nearly opposite Kilkenny Courthouse. Its all cool grey and duck egg blue, with high Georgian ceilings, art deco lighting, dark wood tables, and a long banquette on one wall, facing a row of tables cordoned in from the reception desk and passage way by a half partition. I asked immediately for the loo, which is upstairs, and had to manoeuvre my way past a buggy partially blocking the door into the hallway.
The lunch menu with prices from €5/ €12.50 offered popular casual stalwarts – Eggs Benedict, salmon and roast red pepper quiche, club sandwich, fish 'n chips, a burger, penne pasta, risotto, plus split roast free range chicken, or roast loin of veal with Puy lentils, oyster mushrooms, pear jus, and roast baby potatoes for those who prefer the 'meat and potatoes' type lunch. I guess you could say they have a number of angles and tastes covered.
To start, Sir and I ordered a platter, or plate as it was, of Serrano ham (€9.50), dotted with cubes of quince paste, stemmed caper berries, topped with a fluff of mixed leaves. Its not rocket science to put this together, it was fine, the ham was nice, but the accompanying half slice of white bread and small slice of brown looked lonely in the chrome bread basket, and was perhaps a bit on the stingy side considering we'd said we were going to share it as a starter, and had also ordered main courses. Sir proceeded with the Works Burger (€11.50), a decent enough size if dense very well done burger, served topped with bacon, cheese, and a pile of chips to the side. Fine but you wouldn't leave home for it. I had a very good seared piece of hake (€12.50) atop a fresh bright combination of roasted red peppers, diced courgette, green beans and a Hollandaise sauce. This was excellent, the vegetables well judged, a good sauce, and it arrived with roasted new potatoes.
Things were looking up at this point, the place had filled in, but beaming faces and enthusiasm would really help the ambiance here. Anyway, I loved a gluten free concoction of Baked Alaska ((€5) oozing icecream, lemon curd and meringue.
Asking for a second time for the Evening Menu I ascertained that, along with some of the lunch time dishes, it is beefed up with a sirloin steak and duck breast with Puy lentils, with prices running up to €20.50. With a glass each of Vins de Pays - €5.95 each – not cheap and the only option by the glass - our bill before service came to €50.40
Remember a smile costs nothing but can conquer Nations!
Foodworks,
7 Parliament Street,
Kilkenny,
Co. Kilkenny.
Tel: (056) 777-7696
FIRST PUBLISHED IN THE SUNDAY INDEPENDENT.