The Quiet Man Behind Dublin's Favourite Institution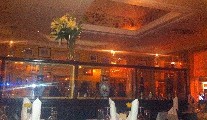 Tuesday 25 September 2012
ONE of Ireland's most successful and longstanding restaurateurs never seeks the limelight for himself. While John O'Sullivan is very well known and respected in the hospitality industry, it is the name of the restaurant that he co-founded in 1992 -- Roly's Bistro in Ballsbridge, Dublin -- that is immediately recognised by the general public.
Roly's Bistro, now celebrating its 20th birthday, was the brainchild of a group of restaurateurs who, whilst having a drink after a game of golf, were discussing where they each would ideally open a restaurant. A bistro/brass-erie was the consensus, and the location was prime Dublin 4. So, Roly's Bistro was born.
To say it hit the ground running is to put it mildly. It caught the imagination of the people of Dublin, offering atmosphere and good food in a relaxed setting, at reasonable prices. Today the dynamic heading up Roly's Bistro has changed somewhat as initial investors have moved on, but John and his wife Angela are the constants, along with Colin O'Daly, director and former chef de cuisine, and Paul Cartwright, chef de cuisine and director. Roly's is as popular as ever and generations have now grown up around it.
The founder of one of Dublin's favourite institutions is, in fact, a Cork man from Bandon. He laughs as he says the other Bandon man, Graham Norton, "is a few years younger than me". John O'Sullivan, however, grew up in Whitehall, Dublin, where his father and mother had a small grocery shop on Collins Avenue.
"When I was about 20, I was supposed to go to Australia, the papers were signed, visas were in place, but I was an only child ... My father went out to the first workingmen's building society where he borrowed £2,800 and bought a shop up in Finglas and I went in to run that. That was in 1955, and I ran that shop for a number of years. There was no self-service at the time and I always had ideas. A friend of mine, Liam Canavan, joined me and put a butcher's shop to the rear and we put a little self-service to the front. We put on a 200-sq ft extension, I have the bill framed at home. It cost £211 and the architect's fee was £10 guineas."
John says that in those days you couldn't make money on groceries -- the price of tea, sugar and butter were all controlled, you got about three per cent on them. So, they began to think further.
"Another friend of mine, Louis McCarthy, had a very famous shop in Parkgate Street. They were way ahead of their time, it was a delicatessen. They had kiwi fruit in the Sixties. Everyone frequented it, from ambassadors to ministers. I talked Louis into coming into partnership with me in the other two shops," says John.
The shops were going very well but John always had a thing about catering. The trio sat down one day and decided to open a hotel. "I was now 28 or 29 and I wasn't going to go to catering college at that stage, so I applied for a job at the legendary Eccles Hotel in Glengarriff. It was run in those days by Major Cunningham and his wife. The job paid £8 per week, and I was interviewed in the Shelbourne Hotel by Mrs Cunningham.
"Of course, I lied through my teeth, making up a CV and so on, and I got the job. I was there from May to October, but I learned more in that six months than I would have learned in 20 years in catering college. There was a Swiss manager, Hans Steiger, who was trying to run the Eccles Hotel as a Swiss Hotel, but can you imagine in the Sixties in Glengarriff trying to do that? However, the systems I learned from him we still use here in Roly's Bistro. I then went over to London for another six months where I worked in kitchen, and there I learned how you got fiddled in a big way!"
After that, the trio bought a hotel in the south east and embarked on what O'Sullivan describes as the hardest three years of his life.
"I had no idea what it was like to run a 28-bedroom country hotel with a big bar trade! The Manchester Guardian wrote up about me in 1970. This reporter wrote that he checked in at reception where he was greeted by a man, who then carried his bags to a room. When he came down for a drink before dinner, the same man served him a drink. He then went into the Grill Room, and guess who was cooking his dinner? He checked out the next morning, and guess who checked him out, the same man. That was me! I could only afford one chef, so he did four days, and I did three days.
"I had three years there and you learned a lot. We had a dinner one night for the golf club and there was a group of people, the local professionals, the doctor, the solicitor, the sergeant, the people who knocked on the door at midnight looking for a drink and you couldn't say no.
"Anyway, the night of the golf club dinner, some of the bigwigs were at the bar, barely able to speak English by the end of the evening. About 5am -- and I was doing breakfasts at 7am -- one of them turned to me and slurred 'give me another pint'. 'Ah, Jaysus,' I said, 'give me a break, I want to get a couple of hours' sleep,' to which he replied, 'all you f**king blow-ins are the same.' I never forgot it, even 40 years later. That summed up running a small country hotel in those days," he says.
They decided to concentrate on Dublin and ended up having four a la carte deli-style restaurants in the Seventies -- Abbey Street, Dame Street, D'Olier Street and O'Connell Street. "We were the first to do sandwiches a la carte. I used go in at 4.30am with one assistant to the central kitchen in Abbey Street."
The restaurants eventually became Gallagher's Restaurants and John subsequently opened Rafters in Rathmines, Flanagan's, and Oscar Taylor's in Malahide. He and Angela then saw the potential for a good steakhouse in the suburbs and so Blake's in Stillorgan was born. Blake's was a "seriously successful operation" and John says he was always very proud of what they did there. Eventually they sold Blake's and shortly afterwards got involved in opening what has now become a Dublin institution -- Roly's Bistro.
John and Angela are also directors of sister restaurant The Bistro in Jupiter, Florida, where they live part of the year. Property prices never reached the same level there. "We bought our house there, 2,900 sq ft by a lake on a golf course, for $300,000."
"Everything nowadays is price, value. Everybody nowadays looks around. It is so value- and price-based but we will not compromise on quality. Paul Cartwright is wonderful, we talk every day, about menus and prices. We have gone as cheap as we can without compromising on quality, and we won't compromise on that. We have a wonderful value, three-course menu in the cafe at €21.95 and a pre-theatre menu in the bistro at €23.95 to €26.95," he says.
"I worry about some of the restaurants. I don't know, and I'm good on figures, how some of the restaurants are selling the food at the prices they are selling at, and surviving, paying VAT, and all of that."
O'Sullivan is full of praise for people around him -- Paul Cartwright, chef de cuisine, who was ex Michelin-starred restaurant, La Tante Claire in London, Hugh Hyland, head chef, and Dave Walsh who leads their bakery team.
Here's to another 20 years!