Love Antiques - Adams Blackrock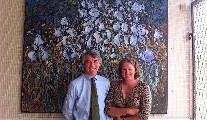 Tuesday 18 September 2012
From the fictional roguish Lovejoy of the 80's, to the Antique Roadshow and mahogany tanned 'Duke' David Dickinson's 'Real Deal' and Bargain Hunt of today, our TV screens have been lit up with antique finds, from Great Granny's chest in the attic to World War 1 soldiers' photos from the Front. We have watched in dismay as people have been disappointed to find that 'Vermeer' discovered in the stables was more Vermeering from the paint shops of China, or that exquisite piece of Dresden was but Woolworth's of the 50's. We are undoubtedly still as fascinated by antique finds and treasures as we are by food.
There may have been a downturn in the interiors world in the popularity of 'brown wood furniture' but that has meant, over the past few years that there have been fantastic opportunities, to buy amazing pieces of solid wood furniture with wonderful classic lines, to either up cycle with paint effects, or to blend carefully with contemporary furniture. I must say I love that look, blending the old carefully chosen pieces with cool contemporary designs. Everything nowadays sells at auction, in fact Christies, the London Fine Art Auction House, this month have been auctioning off Margaret Thatcher's clothes – her trademark 'power' suits, and items as diverse as crocodile suitcases, to a Sex Pistols promotional poster for the 1977 Virgin Records single God Save the Queen which had an estimate of £800/£1200.
Husband and wife team, Bryan Greene and Martina Noonan, of Auctioneers & Valuers, Adams Blackrock, between them, one might say, have an unparrelled knowledge of Fine Art and Antiques. After 25 years in business in Blackrock, they have done a major job of bringing their showrooms into the 21st Century in a big way. Gone is the old quirky feel of the front room where upmarket furniture and paintings took pride of place, as is the 'downstairs' backroom which had that almost wonderful root around 'garage sale' attraction, both replaced by a sleek modern uber cool light filled showroom gallery with divine Swedish flooring,
In fact Bryan and Martina met and married whilst both working for the aforementioned Christies. Bryan hails from Dublin, whilst Martina is one of six girls from Navan, Co. Meath. "My mother always went to auctions in the country and I went with her. I was interested in silver and Bryan was interested in furniture." They got married in 1985 and have two daughters, Emma and Sinead. Shortly after their marriage, the opportunity arose to buy Adams in Blackrock, which had been in business since 1947. "It was a bit nervy taking over, because I had worked in auction rooms, James Adam and Christies, and Martina had worked in Private Treaty sales in Louis Wines, the legendary antique and jewellery shop. We were two novices taking over supposedly an old person's business."
Auctions have always been with us, says Bryan. "We have had three recessions in recent years – the 1980's, the Sterling crisis of the 90's, and since 2008. However, down through the generations there have always been crises, and people have gone back to auctions because there is always a great array of goods being disposed of at auctions. We could sell anything from an elephant's tusk to an Olivetti typewriter, to a Bang & Olufsen stereo system to a Venetian glass chandelier. With the Internet now, the International trade has really opened up, but even before that people used come from the U.K. on the boat for auctions. We recently sold a large sideboard via the web to America. It was 2.5 m long, very heavy, and cost €3,000 to ship it there, and they had paid €4,800 for it. We have also sold silver pieces to Australia via the web."
Bryan says what investment buyers want is a good painting such as a Jack B Yeats or a fine piece of furniture. In those cases "provenance, scarcity and quality, are the three major ingredients in people's acquisitions. Adams is a very private auction room which deals with estates and collections from private homes so privacy is very important. " For the rest of us who like to browse around and find treasures, there are amazing things to be found at Auction Rooms. What people in this category look for are good decorative pieces that are useful and practical. The first auction following the refurbishment takes place on Tuesday, September 11, and some of the items which will be featuring include a magnificent very large work by contemporary English artist Andrew Painter called 'Yellow Fish' which has an estimate of €1500 - €2000, as well as an Evie Hone abstract Gouache with an estimate of €700 - €900. My eye was also caught by a superb Victorian gilt overmantle with applied stags and a hound which carries an estimate of €1500 - €2500. But, just as at Christies, you could also pick up a multi coloured Louis Vuitton handbag between €400-€500, or even a collection of various fishing tackle with an estimate of €100-€200. Another great item for anyone furnishing their home is an Art Deco Dining Suite which includes a dining table and six chairs, with the original retailer's label 'Frederick Restall, House Furnishers, Birmingham', for in the region of €600 - €900. I ask you, a real treasure, what would you get for that in a modern shop?
Bryan and Martina are very optimistic about the future of Auction Rooms and are undoubtedly on the right track in moving forward to provide a wonderful backdrop for their treasures. "The number of viewings have gone up enormously in the last year, a huge pick up, which is also very encouraging in our doing this renovation. We have made it a more contemporary space to give it a different twist and to show everything to its very best advantage. We are opening up the business to other possibilities and to attract more good contemporary furniture and furnishings, and adding some contemporary interior angles to blend with the antiques. We have just a fantastic space to extend the business now from the traditional Antique Auction Rooms."
Be there when the hammer drops!
www.adamsblackrock.com