A Touch of Salt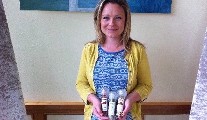 Tuesday 04 September 2012
IT is often said that the best ideas are the simplest ones, and so it seems to be for Edel Cooney of Ladysbridge, East Cork, who has created a range of condiments, flavoured sea salts and peppercorns, under the name Simplee.
We have become accustomed in recent years to highly flavoured and spiced foods, and these condiments offer a very simple and quick way of adding instant zing and punch to grilled viands and fish, as well as those scrambled eggs, or other bland foods that you want to liven up.
Thirty-year-old Edel, who is originally from Midleton, Co Cork, came into the food world more by accident than design. On leaving school she went to UCC, where she did a degree in history and Celtic civilisation. Why Celtic civilisation, you might ask.
"It too was very simple," laughs Edel. "I was going to do history and sociology, but I preferred Celtic civilisation -- it was that simple."
There it is again, that word which features prominently in Edel's life.
"I then did a Higher Diploma in Marketing and Management, and then I went out into the workforce."
Edel worked with AIB before deciding that she wanted to see a bit of the world. With her boyfriend and now husband, Damian Erangey, she covered a lot of ground -- visiting Thailand, Australia, Fiji and then the USA. Having got the wanderlust out of their systems, they returned to live in Ladysbridge -- a very pretty little village in beautiful East Cork.
In 2007, Edel went to work for Halifax Bank, where she stayed until 2010 when Halifax pulled out of Ireland and she was made redundant.
"I'd been playing around with the flavoured salts at home, but then I decided to start the business with my redundancy cheque. It has been amazing. I was at the Blas Awards in Dingle last year and so many people had come from architecture and town planning, and had maybe lost their jobs and got into food, but my Simplee Herb Salt got an award."
The idea came about quite by accident. "I was growing herbs and we just suddenly had a garden full of them. I was thinking, 'We will never eat all of these in time and they will just die.' I was wondering what we would do with them. I couldn't put them into the hot press because it was full, so I threw them into a big bowl of salt because I knew that salt preserved things.
"I chopped them up and covered the bowl over, and, when I came back after a few days, the smell just hit me, it smelled gorgeous, and the herbs were beginning to dry out a bit from the salt, drawing out their moisture.
"We put the mixture into jars and started cooking with it ourselves, and my friends and family started saying, 'Could I have a jar of that, it's really nice', and it went from there. We started selling it in a couple of local shops such as Sean Twomey's butcher's shop in Youghal, and my mother-in-law's craft shop, Simply Irish, just outside Youghal.
"At that point we were always saying we could really do something with this, but both myself and Damian were working full time and we had a mortgage -- and you don't want to take that chance of not being able to pay your mortgage. So, being made redundant in 2010 was a kind of blessing in disguise because it gave me the push to say, 'Well, we'll have to do something'.
"So in 2010 I took the redundancy cheque, and in February 2011 we created the chili salt to go with the herb salt. We started driving around to local shops asking them if they would like to put it up on their shelves. One shop took them, then two, three, four, and then we approached SuperValu in Midleton, and it has just grown from there.
"We entered the Blas Awards in September 2011 and we got a Blas Award for our Herb Salt. We also joined the Love Irish Food brand because we thought it was important for people to know that it was an Irish product."
Last January, Edel and Damian went back into the kitchen and started playing around with flavours. They created four more products: Lemon Pepper, Garlic Sea Salt, Sweet & Smoky Sea Salt, and a very interesting salt-free seasoning which contains citrus fruits, fennel, sesame, coriander seeds, and garlic, which is quite a belter and tastes great on fish and salads, as does the Lemon Pepper.
Edel says that while they started out on their own, they discovered that the Enterprise Board runs an Advanced Food Programme in Cork and they joined that in March this year.
"Bullseye Food Marketing Company run the course with the Enterprise Board and they are fantastic. Any question you have about running a food business in Ireland, they know the answer to, and they are very generous with their time."
Edel's dad Christy, former president of the GAA, has also come on board with Simplee, and they have also taken on a distributor, Simply Wild, which means they will spread their wings over the country.
"I realised I didn't have enough hours in the day to be driving around and restocking the shelves," she said.
Made simply, of course, from organic sea salt, herbs and spices, and attractively packaged in clear grinders suitable for the table, Simplee sells at €4.50 for the flavoured products, and €4 for plain sea salt and black pepper.
In Dublin, you can find Simplee products in SuperValu, Churchtown and Killester; Roberts of Dalkey; Wrights of Howth and in Donnybrook Fair.
For a full list of stockists, see www.simplee.ie
Originally published in