Restaurant Review - Eden Bar & Grill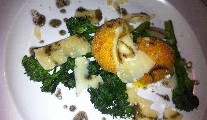 Wednesday 29 August 2012
Restaurants are opening apace in Dublin. The bigger enterprises tend to be by long term restaurateurs who, although they may have had a couple of bumpy rides, get back in the saddle and keep going. The latter, I guess, could be said of Jay Bourke, who in 1996 – God that's another life - gave us one of Dublin's most popular and long standing eateries, Eden, in Temple Bar. Meanwhile, Bourke also gave us a myriad of colourful places along the road since, including CafeBarDeli, which is still in Cork, Odessa, his interest in which he recently sold, and Shebeen Chic, which perhaps he would like to forget! He restored and developed the beautiful Bellinter House in Navan, and put the popular Pop Up Pyg into Powerscourt Townhouse - the guy has a great eye. This great eye spotted the amazing premises of the former Nue Blue Eriu in South William Street, right smack in the middle of what is now known as the Creative Quarter, the hottest dining area of Dublin, and has transformed it into Eden Bar & Grill.
An amazing expansive room with high atrium stained glass skylights, the conservatory feel is enhanced by massive hanging planters – a perfect 'Eden.' With a cool cocktail bar, an open kitchen in the room, there is an amazing restored rustic Babette's Feast style communal table facing it. You don't just get to eat and drink at the new Eden BG, for Bourke has brought the popular ThEatery concept to Dublin, or what used be called Supper Theatre in the old days, with live music, jazz, and other performances.
Cocktails are part of the gig here with a specialist Australian mixologist on board and, as we watched chanter and pianist, Truly Divine and Bryan Mullen perform, Mary tried a French Martini (€9), whilst I had a Basil Caipirinha (€8.50). The Head Chef, Sabi Csitari, ex Winding Stair, is Hungarian, which adds an interesting angle to the food. The menu changes daily, but starters on our visit had ham hock beignet with beetroot, coulis and capers, whilst chicken liver parfait had smoked bacon, pear and toasted brioche. We loved our starters. Mary's choice of sprouting broccoli (€8) was scattered and drizzled, like an abstract painting, with shaved Parmesan and Black Olive Oil, surrounding the piece de resistance of an oozing split crispy duck egg. A homemade Charcuterie board (€9) bore Hungarian influences, which included a brace of pork belly cubes with paprika, a quenelle of chunky pork pate, and crispy cubes of pig's trotter. Mingled throughout, offsetting the rich pork elements, were turmeric pickled cauliflower florets, capers, and peashoots,
Seven mains €14-€22 included risotto with bell pepper, courgette, mint and garden peas, whilst glazed boneless lamb shank, was with garden peas and onion. Mary choose Mixed Duck Grill (€18), which saw the breast and leg, cut and presented in different styles, served with crispy potato cake and greengage compote. Delicious. Hake (€18) for me proved a fine tranch, seared and sitting on a black pudding mash, with Cavalo Nero topped with Parma ham, and drizzled with grainy Pommery mustard. We had sides of triple cooked chips with smoked paprika aioli (€3) and a half portion of delicious risotto (€7), which came, topped with one of nature's treats - deepfried courgette flower.
Desserts too were refreshing and edgy and Mary had the evening's special of a cracking fennel and orange salad (€6) topped with Gathabawn Farm ice cream from Kilkenny. My cheeseboard (€8) had two great Irish cheeses – Boyne Valley Blue and Kilree semi hard goats cheese – with fig and mustard jam. Kilree won Supreme Champion at the British Cheese Awards 2011. Faced with the same selection of popular cheeses in many eateries, it was nice to see a little more thought going into the cheeses at Eden.
With a bottle of Alsace Schlumberger Pinot Blanc 2009 (€30), our bill with optional service came to €136.50. Eden B & G is open for lunch with very interesting and well priced options €6-€14, and brunch at weekends - with jazz.
Mr Bourke could be on a real winner here. Tallyho……
Eden Bar & Grill,
7 South William Street,
Dublin.2.
Tel: (01) 670-6887
www.lucindaosullivan.com