Restaurant Review - Ananda Indian Restaurant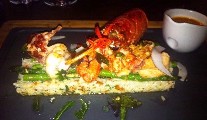 Tuesday 14 August 2012
There are some restaurants and chefs that feature again and again at the top of list when it comes to Restaurant Awards and there is sound reason – simply because they are consistently good. Ananda in Dundrum Town Centre is one of them and received the Best Ethnic Restaurant Award in the RAI/Sunday Life Magazine Awards 2012. Ananda opened in 2008, just before the Celtic Tiger burst, but that didn't hold it back. It was the dream combination of Asheesh Dewan, of the Jaipur Group of Indian restaurants, and Atul Kochar, of Benares in London. Kochar was the first Indian chef to receive a Michelin Star, and is also a regular figure on TV screens across the water. On the ground, heading up the kitchen at Ananda since inception, is Chef Sunil Ghai, an innovative chef who also has a classical French training, and who worked with Kochar in London establishing the style of food for Ananda. He has featured on Irish TV screens including on Masterchef Ireland.
Set in a large airy space with high ceilings and a cocktail bar at one end, overall the room is dominated by fabulous big cream silk waterlily effect hanging shades, which add drama to the ambiance and service. You definitely feel that you are 'going out' when you go to Ananda. Ghai's presentation is totally elegant and complex, always with a wow factor, but with many dishes focusing on one or two spices rather than a mishmash overload. The new seasonal menu had just been launched on our visit and it was superbly enticing. Starters €7.50/€15 included pan seared Kilkee scallops paired with spiced broccoli puree, kumquat chutney, and paprika caviar, whilst enormous jumbo prawns are with spiced Jaipur salt, lemon, chilli with melon, basil salad, capers, and red onion relish. Silky tender Guinea fowl (€11.50) for me saw the breast coated in chilli and carom seeds, cooked in a Tandoor oven, and presented with pomegranate seeds, avocado raita, and Parmesan rubbed parsnip. Brendan opted for absolutely delicious hand pounded Wicklow lamb cakes (€11), flavoured with pungent smoked cloves and cardamom, pan seared and served with a raspberry and curry leaf chutney.
Mains run from €16.50 - €34.50. Ananda's treatment of Waterford monkfish tail is like you will never have had it before. Cooked in the Tandoor oven, it is served on roasted vine tomato and smoked garlic shoots with, to the side, a rock salt and turmeric coated monkfish kofta, lime, and a squid ink mayonnaise. 18 hour marinated Fermanagh pork chop and crispy pork belly comes with a Vindaloo masala – that is hot hot – and Konkan Baath, which is an Indian coastal coconut rice.
I was lured by Howth Lobster Xec-Xec (€34.50) – the ultimate summer treat. Visually it was stunning! No messy work involved in cracking shells, the lobster meat was beautifully arranged on fresh asparagus laid on a compacted mattress of tamarind infused rice. The tamarind added a cheeky sweet sour flavor but the natural flavor of the lobster was not compromised and the Goan style Xec Xec sauce was on the side. The overall dish was tweaked with slivers of coconut, and lime leaves, and a light scatter of the sauce. Ace. Brendan's choice was a superb free-range chicken breast (€23.50), which had been stuffed with wild mushroom, apricot and spinach, and was centered in the middle of the plate in a pool of subtle butternut squash Korma, sprinkled with almonds.
We followed by sharing Pistachio Kulfi (€7) a delicious dense Indian ice-cream, presented cut in geometric triangles and, with a bottle of Hugel Riesling 2010 (€28 ) our bill with optional service was €126.50. A good way to get a taste of top restaurants is at lunchtime, and Ananda do an excellent 2-course lunch at €15/€15.95 Fridays to Sundays. Their 2 course Early Bird menu is €20 or, at the other end of the spectrum, and popular on our visit, is a six course Tasting Menu at €60.
Ananda just gets better and better.