Restaurant Review - Rigby's Deli Dame Street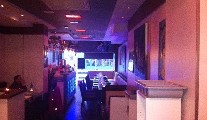 Wednesday 08 August 2012
Chefs are a mercurial bunch. Some are dour, some are gregarious, some are vain, some are prima donnas, some are bitchy, some are namby pambies, some are showmen, some are shit stirrers, some are delightful, but, provided it is on their own terms, all of them love publicity - using various gimmicks to attract it!
Finnish chef Mickael Viljanen moved from Gregan's Castle, Co. Clare to Eamonn O'Reilly's new Greenhouse restaurant in Dublin; in foodie circles, it was the generally thought that he moved because he hadn't got the desired Michelin Star. Heaped with excellent reviews, Viljanen declared in a recent newspaper interview that critics in Ireland were too soft, and should be more honest, adding that in England they didn't care about destroying people's businesses. Am I wrong in thinking that's somewhat smug? And that he's shooting himself in the foot from the vantage point of having people praise his food. Does Viljanen think critics were too kind to his food, or whom amongst his peers does he think we hammer? Telling the truth, is my preference, rather than seeking a cheap shot.
Meanwhile in Ardmore, Co. Waterford Dutch Chef Martijn Kajuiter of the Cliff House Hotel, griped on Twitter, following a decent enough newspaper review that had the audacity to question a portion size. He declared "bollocks about the portion sizes….not well written…guess the great MPW (Marco Pierre White) is right, we are judged by people who know less than we do." It's an awful mistake thinking you are right all the time. Many a one has gone down the tubes that way. All of the critics I know are very honest in their opinions, in a constructive way – that is the job; to act for the paying customer, not the chef. Perhaps these guys should stick to making pretty pictures on plates – and leave the experienced critics to the job they know.
Another chef who seems to have a thing about critics is English Chef James Rigby, who likes to push a punk image. He opened his little Rigby's Deli on Upper Leeson Street last year billing himself as "The chef critics love to hate"! Really Mr. Rigby? Why? Seems rather childish. Personally I'd never heard of James Rigby before he plonked himself in D4. He has now opened a second branch in Dame Street. The gig is deli by day and a no menu dinner Tuesday to Saturday nights – two starters, one meat, one fish, and it's "how the chef cooks it". Now, if you are doing that 'menu surprise' sort of thing – the food needs to be exceptional to draw one back – not just fine. Friend Rena's penne pasta (€7.50) with "home prepared chorizo" was too heavy as a starter, dull and bitter, and she didn't like the "skinless sausage" texture. "Home cured salmon with crispy crayfish" (€7.50) proved a sparse tartare of salmon, two miniscule crayfish so small they added nothing to the dish, pickled cauliflower, sultanas, and greenery. Nor was Rena impressed with her petite sautéed cod fillet (€18) napped with a beurre blanc, resting on three new potatoes with two sprigs of broccoli and topped with a chargrilled lemon slice. I fared better with very nice rump of lamb (€18) sliced on braised fennel, a carrot, and a lot of thin, greasy gravy. To finish, we shared an uninspiring splodge of strawberry Baverois (€6) embellished with a blob of cream, orange marmalade, three raspberries, and dry flat tasting shortbread biscuit. All a bit works canteen dinnerish, but we liked the retro atmosphere as well as the delightful young girls waiting on table.
With no wine license on our visit we had a BYO bottle of Long Mountain Sauvignon Blanc 2011 (€10.99). Our food bill with optional service was €63 – not really that cheap considering all the 2/3 course Value Menus around town.
As dissatisfied friends were told by a maître d' in a restaurant one evening "Michelangelo didn't create a masterpiece every night" – egotistical chefs should remember that!
Rigby's Deli,
65 Dame Street,
Dublin. 2.
Tel: 087 793-9195
FIRST PUBLISHED IN THE SUNDAY INDEPENDENT ON AUGUST 5, 2012.