An Overview of Last Minute August Family Breaks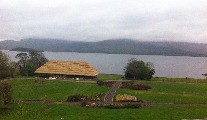 Monday 06 August 2012
HERE we are at the August bank holiday weekend of what has been a washout summer. Some of you may have been holding back on taking a break, but it really is now or never.
I always feel that even three or four days away does one the power of good. Fabulous hotels around the country are offering great value breaks for August, grab them while you can. There are some superb offers but please note that, unless otherwise stated, family packages are for two adults and two children, under 12, sharing a family room with parents.
Capital cities around the world tend to empty out during August as locals head away so the atmosphere is more relaxed, the traffic is lighter, there are more tables in restaurants. Dublin is no different, so why not come up and see us?
The Burlington Hotel, at Upper Leeson Street, is perfectly located for a city break. Celebrating its 40th birthday, its 'Summer Delights' package, which you must quote, offers B&B at €55 pps and you get an ice cream on arrival. www.burlingtonhotel.ie. The Radisson Blu St Helen's Hotel, Stillorgan Road, has wonderful gardens. Its family package from €207 includes 1BBD in its excellent Talavera Italian restaurant, with a children's menu, plus entrance tickets to Imaginosity. It has a Horse Show package (August 15 to 19) of 1BBD from €122pps. See www.radissonblu.ie/ sthelenshotel-dublin
At Fitzpatrick's Castle Hotel, Killiney, two adults and two children get 4BB2D at €740 with wine and choccies in room plus a one-day pass to Dublin Zoo or Sealife in Bray. Meanwhile, 2BB1D for two adults is from €129 pps. www.fitzpatrickcastle.com
You can visit Dublin and yet be in the Garden of Ireland, at Druids Glen Resort in Co Wicklow, where 3BB2D costs €160 per room per night for two adults and two children, or 2BB1D is €145 per room per night. Kids eat free in Druids Brasserie up to 7pm. There are family kitchenette facilities. www.druidsglenresort.com. At the Ritz-Carlton, Powerscourt, stay three nights with the family and pay for two, or stay five nights and pay for three -- up to the end of August. From €290 per night with buffet breakfast for two guests daily. www.ritzcarlton.com/powerscourt
For August, at the glorious Mount Juliet Estate at Thomastown, Co Kilkenny, book two nights in the self-catering Rose Garden lodges and get a third night free. Prices from €597 per lodge. Alternatively 1BB and a round of golf or a spa treatment is from €119pps.
Fancy a bit of culture? During Kilkenny Arts Festival (August 10 to 19) enjoy one BB in Mount Juliet House, a three-course pre-theatre menu in the Lady Helen restaurant, and transfers to Kilkenny to the first national performance of As You Like It by Shakespeare's Globe Theatre, which Mount Juliet is sponsoring. From €150pps. www.mountjuliet.ie.
In the lush green fields of Tipperary, at historic Inch House, 3BB2D for two people is just €380. Stay a fourth night BB for €60 for two. Its Hill Walker's Paradise midweek special of 2BB1D for two, with maps and a light lunch each day, is €260 in total. Inch House is the home of Nora Egan's fantastic puddings. www.inchhouse.ie
At the lovely Georgian boutique hotel, No 1 Pery Square, in Limerick, with the cracking Brasserie One eatery, they have created a package for couples, or couples with new babies or toddlers. For €269 pps you get 3BB2D, access to the Vaulted Organic Spa, a picnic, complimentary visits to the Hunt and Frank McCourt Museums, and a Georgian Limerick Walking Tour. Cots, bottle-warmers, changing mats, provided free. www.oneperysquare.com
Across the Shannon, at the Limerick Strand Hotel, they have a great rate of €65 pps for 1BBD. The three-night family package at €299 includes breakfast, kids' club, free swimming lesson and a complimentary day pass to the Cliffs of Moher. www.strandlimerick.ie
The Old Ground Hotel in Ennis, Co Clare, has an excellent break with a guided walk in the Burren region. From €169 pps, kids 'sleep and walk free'. You get 3BB1D plus lunch for the adults in its Town Hall Bistro and a surprise spa treat. www.flynnhotels.com
In east Cork, at the stunning five-star Castlemartyr Resort, from €625 you can have 3BB, one dinner for two in the Bell Tower Restaurant, one dinner in the Golf Clubhouse. All their VIKs (Very Important Kids) enjoy special kids check-in, High Tea each evening (under-12s), a movie night and entrance to The Kids Zone. The 'Summer Escape' package includes 2BB1D in The Bell Tower. Sunday to Thursday, this costs €175 per night; Fridays and Saturdays it is €210 per night. www.castlemartyrresort.ie
Nearby, at the seaside Garryvoe Hotel, its 'Let Your Little Monkeys Run Free' package offers 3BB1D, family day ticket to Fota Wildlife Park, a packed lunch, admission to Jungle World in Midleton. Sunday to Wednesday €285 per adult sharing; Thursday to Saturday €299 per adult sharing. www.garryvoehotel.com At Bayview Hotel, Ballycotton, you can have 1BBD and a bottle of house wine for just €170 for two people. www.bayviewhotel.com
Fota Island Resort is fantastic. It's next door to Fota Wildlife Park, and you canvisit Cobh and take the Titanic Trail. Fota's three-night family package provides interconnecting rooms at €750 Monday to Thursday; €810 Friday to Sunday. There is a daily Kids Camp, save Sundays, and kids' movie nights and games. The rates do not include dinner but there is a delicious children's buffet available daily between 5.30pm and 6.30pm at €9 per child, and various dining options for adults. www.fotaisland.ie
The family package at the superb five-star Hayfield Manor Hotel in Cork city is €640 including 2BB1D in Parrott's Garden Bistro with a healthy options children's menu. Here too, kids get perks such as mini bathrobes, cookies and milk at bedtime. www.hayfieldmanor.ie Nearby at the brilliant River Lee hotel they have a last-minute rate of €135 per room per night -- two adults, including full breakfast, and a complimentary non-alcoholic cocktail. Available until August 31. www.doylecollection.com. The family package at the Montenotte Hotel offers 4BB for the price of three at €297, leisure centre, and kids' movie nights. A 2BB1D midweek stay for two at €99pps includes a complimentary bottle of wine in the room. www.themontenottehotel.com
In the heart of Killarney, at the legendary Malton Hotel, its 'Summer Family Fun Programme' is packed with activities from Big Chef, Little Chef, Cooking Demonstration to nature trails, a jaunting car trip, and a teddy bears' picnic. A two-night family package is €480 midweek and €520 at weekends for a family room, or with interconnecting rooms is €550/€590 respectively. It includes 2BB1D. www.themalton.com
At the boutique Killarney Royal Hotel the family package is from €345 for 2BB1D for all the family. Complimentary passes to a nearby leisure club, board games, movie nights, and babysitters on call. Its Candle Room Restaurant has just been revamped. www.thekillarneyroyal.ie
The Muckross Park Hotel, in the National Park, has self-catering apartments which are perfect for families and close to the hotel so you can dine 'at home' or in the hotel. Guests over 18 also have free access to the Cloisters Spa Thermal Suite & Vitality Pool. Two-bedroom apartments are from €298 for two nights, or seven nights for €699. www.muckrosspark.com
The Dromhall Hotel and Randles Hotels offer family packages from €630, for 3BB, a jaunting car trip followed by a lake cruise, or a day out at Pony Tales Riding Stables. A four-night 'Room for Romance' break has two nights in the Randles Court and two nights glamping (glamorous camping) at Grove Lane Glamping in a Bell Tent in a private orchard. Prices from €380. www.randlescourt.com
In Kenmare, at Sheen Falls Lodge, its '3 for 2' Package offers 3BB with one dinner in La Cascade restaurant and one dinner in the casual dining restaurant from €390 pps. www.sheenfallslodge.ie At the fabulous Parknasilla Resort & Spa at Sneem five nights self-catering in luxury two-bedroom lodges is from €1,000. It is a true resort with something for all the family including swimming, fishing, golf, spa, seven mapped walks, and a new fairy trail for kids. It's a magical place where memories are made for all the family. www.parknasillahotel.ie
Overlooking the River Shannon at Carrick-on-Shannon, Co Leitrim, the Landmark Hotel's 'Lough Key Family Escape' offers 2BB1D midweek from €150 per adult sharing with children under 12 enjoying free B&B. Additional nights from €50 per adult sharing. There's lots to do in the area and you get a family pass to the wonderful Lough Key Forest and Activity Park. www.thelandmarkhotel.com Also overlooking the Shannon is the Radisson Blu Hotel Athlone, Co Westmeath, where families can have 2BB1D from €329. There is a Kids Camp for children aged four to 12 from Wednesday to Sunday and you get a family trip on the River Shannon on a Viking ship. www.radissonblu.ie/hotel-athlone
Further west, in Claremorris, Co Mayo, at the McWilliam Park Hotel, there's a 2BB1D package which costs €119 midweek or €159 at weekends. It also has a 5BB family offer for €399. There's a Bizzie Bee Kids Club with a free cruise for children on Lough Corrib. www.mcwilliampark.ie
Kilronan Castle at Ballyfarnon, Co Roscommon, has a 1BB midweek family package at €174 which includes a family pass to the Lough Key Experience. www.kilronancastle.ie In Ballina, at the Downhill House Hotel this August, for €299 families can have 2BB1D plus an evening boat trip and a picnic basket. www.downhillhotel.ie
If you're a family who likes the great outdoors there will never be a dull moment at Delphi Mountain Resort in the wilds of Connemara in Galway. The family can have 3BB2D from just €499. Activities are extra. www.delphimountainresort.com
Close by, in Galway, at the fantastic Renvyle House Hotel, an 'All in Family Rate' of €790 includes 3BB2D plus three kids' teas. There is a nine-hole (par 3) golf course, boating, fishing and canoeing on a private lake and a supervised Kids Club. www.renvyle.com At the stunning Ashford Castle there are some last-minute offers from €295 per Corrib double room per night, including breakfast. A family room with two Queen beds is from €350 per night. Its Cullen's at the Cottage restaurant has dishes starting from €12.50, so lots of choice at an amazing place. www.ashford.ie
In Co Donegal, at the splendid Sandhouse Hotel & Marine Spa, overlooking the beach at Rossnowlagh, there's an offer of 3BB1D, one spa treatment, one round of golf at Murvagh, or a surf lesson, for €299 pps. www.sandhouse.ie
The amazing Castle Leslie Estate, Co Monaghan, has four accommodation options, the Castle itself, the Lodge, or self-catering in their Old Stable Mews or Village Cottage. Two nights is from €155pps at the Lodge, or €210 pps at the Castle, with dinner in Snaffles Restaurant at the Lodge. A six-night family break for the price of five in a Village Cottage is €1,050. This includes a family carriage ride on the estate and two supervised mornings at The Saddle Club for the kids. It also includes one three-course family dinner at Conor's Bar at the Lodge. www.castleleslie.com
Overlooking the River Boyne, the D Hotel has two family packages 'Kids Stay and Eat Free from a two-course set Kids Dinner Menu'. The first offer is at €49 per adult sharing. includes 1BB -- note, dinner not included for adults. The second package is from €69 per adult sharing for 1BBD including one day's unlimited access to Funtasia Waterpark. www.thedhotel.com
Gorgeous Bellinter House near Navan also in Meath has a couple of great August breaks. The Early Bird offers 1BB with an Early Bird Dinner, and box of chocs in your room, early in the week -- Monday to Thursday from €99pps. The second offer is the 'Rain Reviver' of 1BB1D 1 spa treatment, plus chocs, at €140 pps available all week long. www.bellinterhouse.com
This is but a 'Taste Blaster' of what is available for August around the country. All hotels will have great offers so look around and go for it!
Originally published in