Blackwater Open Farm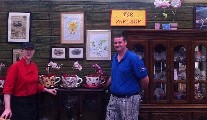 Monday 30 July 2012
FANCY having your hen party with real birds of the feathered variety? It would certainly give rise to an amount of clucking and flapping excitement if you said: "Hi girls, we are having my hen party with real hens and a wellie-throwing competition. Isn't it absolutely brilliant?"
Blackwater Open Farm & Cafe is the brainchild of young husband and wife team, Michael Keating and Niamh Morris. Michael is a Horticulturist and Niamh a highly qualified chef who did her training in Athlone Institute of Technology, followed by a year specialising in advanced pastry at DIT, and a further period at Ballymaloe Cookery School. With all of that training behind her, you can be assured that your 'chicks' will also be well fed.
On 20 acres of the Keating family farm, Michael and Niamh set up the Open Farm just three years ago and, although tucked away down a country by-road, it has been a resounding success. Having visited it on the day of their Annual Teddy Bear's Picnic, and watched the joy and fun on the children's faces, I can see why this has worked so well for them as the setting and attention to detail makes this a great wholesome day out for all the family.
"We were getting married and we wanted to put our professions together, farming, horticulture and cooking, so all of the family came up with the idea of the Open Farm here," said Michael.
"We opened on the June bank holiday three years ago, so this is our third year, but our fourth season, and it is going really well. We did have a garden centre here also but, with the downturn, we decided to concentrate more on the Open Farm.
"This was one of the old tunnels of the garden centre," he said laughing, as we sipped our coffees in part of the cafe. "I started in horticulture in Kildalton, then went to England for a couple of years, and came back. I then started doing landscaping, the garden centre was opened for seven years before we diversified."
They soon realised the potential for using the Open Farm as a venue for parties and events of all types, apart altogether from being a venue for children to play and enjoy the animals, games and facilities. "We started doing hen parties two years ago. It is just a little different, a fun day for the 'hens' before they go on their night out.
"There is the choice of a cookery lesson and demonstration by Niamh, a plant-potting demonstration by me, a treasure hunt quiz, a wellie-throwing competition with spot prizes, writing a good luck message on our wall, an informed guided tour of the farm, go-karting, and a wedding dress fun fashion show where the participants make up their own wedding dress from bin bags, toilet rolls, and Sellotape. It is great fun."
At €28, including a buffet lunch, it also sounds like great value to me. If you want to make a weekend out of it, they have a package arrangement with Treacy's Hotel in Enniscorthy. There are also other hotels in the area such as the Riverside Park in Enniscorthy, and the Ferrycarrig and White's Hotels in Wexford.
They have baby rabbits, mammy rabbits, guinea pigs, cockatiels, canaries, pigeons, fan-tail pigeons, tumbler pigeons, 40 varieties of rare-breed poultry, geese, ducks, turkeys, four different varieties of pigs, llamas, alpacas, rare breeds of sheep, fallow deer, donkeys, and more.
"The piglets get tickled every day," chuckles Niamh's father, Liam Morris, who also has a mobile home park in Blackwater Village.
"If you tickle them they roll over and fall asleep."
Both sets of parents, Patrick and Lelia Keating, and Liam and Patricia Morris, are actively involved in the Open Farm and add a lovely warm family feel to the place moving around through the kids. "We couldn't have done it without their help," say Michael and Niamh.
Everything is cooked on site and they also grow their own tomatoes and vegetables, and this year produced their own Dexter beef for the table.
They cater for parties of all sorts -- Christenings, stag parties, birthday parties for all ages. They were preparing for a 90th birthday, the lady having had her 89th there last year.
Niamh had previously been working in Gorey and explains how it has worked so well for all of them. "We wanted to do something at home and not be travelling and commuting all the time. Every year we put in something new to keep it fresh and all our food is cooked on site."
They also have a big covered bouncing castle, and have this year added a football pitch. They also have a separate room where they can host special events -- such as their Hallowe'en Party on October 27, and their Winter Wonderland, which kicks off with Santa's arrival on December 1.
They are planning and indeed advertising already. Nothing like being prepared.
Moving forward all the time, Michael says they have also planted 45 acres of forest this year, which will in time lead to Nature Trails and relevant activities, and during this planting they discovered a fulacht fiadh, which sounds like a pot of gold!
Look what a little imagination and get up and go can do.
Blackwater Open Farm is in Ballinaclash, Blackwater, Enniscorthy, Co Wexford.
Tel: 0851227901 or 0871303057 or online at www.blackwateropenfarm.ie