Our Latest Great Place to Eat - Eastwood & Mays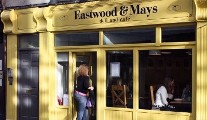 Tuesday 17 July 2012
One of the great things about cities like Paris, Rome and Madrid, has always been that, once you stepped out of your hotel and went off down some side street, you would stumble on some little gem of a Bistro where you wined and dined at inordinately reasonable prices and you felt you were in on a particular secret. This was something that was lacking here during the Celtic Tiger era but happily is returning and Eastwood & Mays is one of those little gems.
A small daytime deli café doing dinner Thursday thru' Saturday, Eastwood & Mays offers delicious fresh bistro style food at affordable prices. The Head Chef Nuti Isbanda has worked in many excellent Dublin restaurants, including the former Mermaid Café, so regulars of that emporium will be very happy to find Nuti and enjoy his food at Eastwood & Mays.
We liked too the atmosphere here, it is friendly and almost slightly arty. At lunchtime they do excellent smoked fish chowder with bacon and homemade bread, as well as a soup of the day, and people are queuing out the door for their great sandwiches served on granary bread or a white bap. You can have a fantastic roast in roll, which changes daily, or an interesting variety of fillings, such as smoked chicken and bacon, tomato relish, green leaves and aioli, or goats cheese with avocado, apple and walnut pesto and rocket. House smoked salmon comes with pickled red onion salad on homemade brown bread, whilst Pastrami comes with beetroot relish, Emmenthal cheese and gherkins. I really like that New York style combo – and beetroot is good for your blood pressure! Another favourite combo of mine is Parma ham, Brie, Balsamic roast peppers, aioli and rocket. They also do salads such as Butternut Squash, goats' cheese, roasted red peppers, pumpkin and Pomegranate seeds, or green beans and leaves tossed with Feta, Kalamata olives, tomato and hazelnuts. You can also get a hot dish such as French style braised chicken legs, Pancetta and mushrooms in a red wine sauce with roast baby potatoes – which is also on the evening menu – a popular dish.
Starters at dinner include the aforementioned cracking chowder and soup, as well as Parma ham wrapped Mozzarella, Balsamic roasted peppers on a smoked Rosemary crouton, whilst baked beetroot and goats cheese is with avocado, walnut pesto and watercress. On my visit I had duck rillettes, which came with pickled plums, smoked rosemary oil, grilled bread, and mixed green leaves which was excellent whilst Mary had cracking pan fried prawns with chili, shallots, garlic, olive oil, parsley and lemon.
Mains include pan-fried Skate with beetroot, capers, sultanas, nutty butter and baby potatoes, whilst Moroccan lamb shanks are with dates, chickpeas, and sweet potatoes. They do a cracking rib eye steak with mash, green beans and Tarragon, whole grain mustard and roasted garlic butter, as well as a vegetarian dish of Filo wrapped Brie, flat cap mushrooms, tomato relish and rocket, and of course always have a dish of the day.
Leave room for puds – think maybe of walnut and banana bread with caramelized bananas and vanilla ice-cream, or Pecan pie, or chocolate biscuit cake also with ice-cream.
For me the divil is in the detail with Chef Isbanda's food – I love the sweet sour elements included with dishes such as sultanas, capers, dates, and sweet potatoes. I could eat it every night.