HOLIDAY PIT STOPS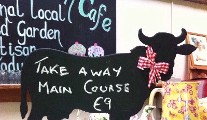 Monday 16 July 2012
So here we are, at the height of the holiday season, maybe travelling to, or already arrived at, that west Cork rental, or Sligo yurt. You are defo out of the home-comfort zone, and looking for a decent reliable bit of nosh. Here are a few ideas.
If you travel regularly on the M8 to Cork, you will know that it is a desert when it comes to eating and comfort breaks. However, a good spot is the Horse & Jockey Hotel, exit junction 6, which has an exceptional coffee lounge with luscious cakes and breads from their in-house baker, Jacqueline Lanigan Ryan. Try her fab gluten-free chocolate cake. See www.horseandjockeyhotel.com
Taking the N25 coastal route, a good spot is the Green Barn Garden Centre, Bistro and Shopping, between Youghal and Killeagh, offering excellent casual food all day, and you can also have a good browse through the new OSKA Outlet Store, while the chickens and ducks floating around in the pond outside entertain the kids. See www.greenbarn.ie.
Further on, at Midleton, there are lots of great eateries including the Farmgate Restaurant & Country Store, which is a really stylish, buzzy spot with great atmosphere and grub. See www.farmgate.ie
At the other end of the town, under an arch off Main Street, is the Sage Cafe where chef patron Kevin Aherne does a great job with contemporary casual grub. On Saturdays, they run a lunch menu showcasing local produce available in the Midleton Farmer's Market. See www.sagerestaurant.ie
Cobh is a great historic port and it got the eatery it deserves in the form of Gilbert's Restaurant and Townhouse, on picturesque Pearse Square, where you will get good casual food at lunchtime, coffee and cakes all day, and dinner in the evening. Look out for their special Titanic Dinners on August 1 and September 5. See www.gilbertsincobh.com
In Cork City itself, you have to visit the English Market and then have a bite to eat upstairs in Kay Harte's Farmgate Cafe, which is a legend in itself. You will get a great breakfast here and wonderful Irish stalwarts at lunchtime from tripe and onions with drisheen to Irish stew to lamb's liver and bacon. Food of the gods. See www.farmgate.ie
Electric Restaurant & Bar on South Mall in Cork has stunning views out over the River Lee. From 10am daily, they serve freshly baked scones and pastries. They move on through casual lunches to tapas in the evening from 5pm. Upstairs, they do lunch from noon to 5pm and dinner after that. See www.electriccork.com.
Kinsale, of course, is famous for its restaurants, and among them you will find Max's Seafood Restaurant where French chef Olivier Queva never fails to turn out excellent food, while his Clare-born wife Anne Marie is front of house. See www.maxs.ie
Moving further west, just outside Bandon, is the Poacher's Inn Seafood Bar & Restaurant, a cute little spot. They do bar food seven days a week; Monday to Thursday lunch and dinner, and at weekends run straight through from around noon. Their upstairs restaurant opens Thursday to Saturday and bank holiday Sundays, offering everything from seared Castletownbere scallops with spiced cauliflower puree and cider syrup, to a west Cork crab and prawn cake with mango and plum salsa. Kids can have half portions of almost anything on the menu. See www.poachersinnbandon.com
Over in Kenmare, you will get great grub in Casey's at the Brook Lane Hotel. Brunch is from 11am to 1pm, so you can have either your favourite eggs Benedict or chunky Kenmare seafood chowder at decent prices. They have a great fisherman's pie, local smoked duck, fab sandwiches, and one of the best Irish stews I've had. The evening menu is also good, with lots of local produce and Ring of Kerry lamb. See www.brooklanehotel.com
For a special evening out, chef Wade Murphy's food, at The Long Room at Doonbeg Lodge, Co Clare, is a delight. Less formal is The Lodge's Darby's bar -- think crispy sea bass fried in a tempura batter with pak choi, water chestnut, fennel, rocket and coriander chilli sauce, or quail spring rolls. See www.doonbeglodge.com
Further up the coast, in Lisdoonvarna, chef Aidan McGrath, and his wife Kate Sweeney, have created a foodie destination with their Wild Honey Inn. It has a lovely atmosphere and McGrath's food is impacted with flavour to beat the band. Marinated lamb neck fillet is Spanish style with ajo blanco, buttered greens, black olives, capers, parsley and garlic, while wild silver hake has a touch of Provence. There might even be lobster salad with fresh garden peas, organic leaves and watermelon. This is a gem in the county of Clare. See www.wildhoneyinn.com
In Galway, take the opportunity to visit Aniar, which is hot and hip, yet unpretentious and calm. Here at JP McMahon and Drigin Gaffey's little bit of Nordic sunshine, head chef Enda McEvoy has been exciting foodies with his Connemara terroir-style Noma-esque food. And the prices are good, too. See www.aniarrestaurant.ie
In Westport, Co Mayo, the popular Quay Cottage restaurant beside the entrance gates to Westport House has been reopened by Kirstin McDonagh. See www.facebook.com/ QuayCottage.ie Overlooking the Octagon at the top of the town in the Wyatt Hotel, JW's Brasserie does great-value food. See www.wyatthotel.com
In Donegal, for some nice seafood, take a trip to Castle Murray House Hotel at St John's Point, Dunkineely. The location is stunning and you will get the very best of Franco-Irish food from head chef Remy Dupuy, including fillet of turbot with saffron foam and Pernod, or maybe McSwayne's Bay blue lobster with garlic and brandy. See www.castlemurray.com
Finally, in the sunny south-east, make a beeline for Aldridge Lodge at Duncannon, where chef patron Billy Whitty never disappoints. Fish straight off the boats and great foie gras. Dinner at ¿38.50 offers top-notch options. See www.aldridgelodge.com.
L
www.lucindaosullivan.com