Our Latest Great Place to Eat - Konkan Indian Restaurant Dundrum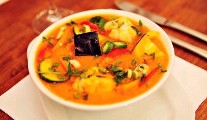 Wednesday 11 July 2012
Konkan Indian Restaurant started out a few years ago in the somewhat simple surroundings of Dublin's Upper Clanbrassil Street but it wasn't long before fans of Indian food discovered it and the really rather good authentic traditional and regional Indian food being served there. Naming their new restaurant Konkan after a region on the south west coast region of India, which includes the states of Goa, Kerala, Maharastra, and Karnataka, they created a really nice welcoming restaurant. The Konkan region of India covers East Endian fiery curries, the rich sea food of Goa, the green masalas of Hindus, the peppered lamb of Karwar and wonderful dishes from Kerala. They are very good in their use of spices at Konkan, using only fresh ingredients, and with a wide range of dishes to suit every palate, and at very good prices.
Happily they have now opened a second restaurant in Dundrum village, which was previously an Italian restaurant for many years. It is a really cute little premises on the left just short of the traffic lights at the crossroads. Here they have again created a warm welcoming atmosphere for their cuisine. They have an A La Carte menu, an Early Bird menu and a great value 2 course Tasting for 2 people which runs all evening.

READ ALL ABOUT KONKAN AND THEIR NEW RESTAURANT IN DUNDRUM ON THE RESTAURANT SIDE OF MY WEBSITE. GO AND ENJOY.
LUCINDA