Pat Whelan Butchery Skills Demo at Avoca Monkstown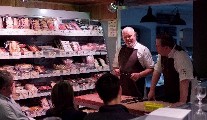 Thursday 28 June 2012
On Tuesday 10th July, renowned craft butcher Pat Whelan is holding an evening butchery demonstration class in Avoca Monkstown, where he'll show you how to use knives safely, butcher pork and beef and give you a new found confidence and understanding of the most beautiful cuts of meat. The demonstration costs €99 per person and can be booked online at http://www.jameswhelanbutchers.com/info/butchery-demonstrations/ or by phoning 052 6182477.

Butchery Demonstrations at James Whelan Butchers, Avoca Monkstown

Our evening butchery demonstrations take place in Avoca Food Hall, Monkstown, home to our Dublin branch of James Whelan Butchers. Two of our master butchers will demonstrate knife skills, pork and beef butchery while you sit back and enjoy the experience.

18.45 – 19.00 Introduction
Welcome and catch your breath after a long day with a glass of wine and some of our very own James Whelan sausage rolls.


19.00 – 19.20 Knife Play
This introduction to the course starts with the most important tip of all : using knives safely. We know that a blunt knife is a dangerous knife, so we will demonstrate the correct sharpening process of knives, what tools to use when sharpening and how to approach different knives in different ways. At the end of the evening, we will present you with your own knife and protective glove which will be invaluable for safely managing butchery at home.


19.20 – 20.20 A Celebration of Pork
We begin our meat demonstration by focusing on cutting and butchering an entire side of pork. During this section, you will gain a better understanding of all the cuts, how to cook them and give you the confidence to walk into a butcher's shop and buy whatever you want. We also explain the characteristics of what makes really superb pork.


20.20- 20.30 Break
A quick break to stretch your legs


20.30-21.30 The Sweet Secrets of Beef
During this demonstration, we ignore the familiar and concentrate on the forequarter of beef to show you the more unfamiliar cuts of beef including the Jacobs Ladder, the Blade, Feather and Bowler steaks.


21.30-22.00 Nibbles and Natter
Please join us for a glass of wine and sample some of our slow roasted pulled pork shoulder, while we chat about what we've learned during the evening. You'll leave with a new found appreciation of the magic of meat and a gift bag containing a knife, a protective glove, some of our fabulous meat and recipe sheets.