Our Latest Great Place to Eat - The Waterloo Bar & Grill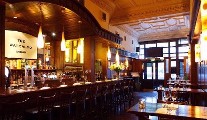 Friday 29 June 2012
I love Gastropubs of all sorts; provided that is that they live up to the ideal of the Gastropub, which is cracking restaurant style food in informal surroundings. The Waterloo Bar & Grill certainly meets those criteria with knobs on. The original Waterloo pub has been transformed into an amazing destination, which is attracting the hip cool crowd in their droves.
The front part retains the old traditional pub style and you then walk through into an amazing high atriumed long bar with high banquette seating on the left, which is extremely comfortable, and from where you can watch the passing parade, as you dine on some pretty good grub. There is also another alcove area to the back as well as al fresco dining area. Food is New York Italian style with a touch of the Auld Sod thrown in by way of local produce.
READ ALL ABOUT THE WATERLOO BAR & GRILL ON THE RESTAURANT SIDE OF MY WEBSITE. GREAT PLACES TO EAT.
GO AND ENJOY,
LUCINDA