The Antique Gems on Francis Street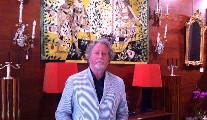 Tuesday 19 June 2012
People with an inherent talent for design tend to be talented across all of the artistic mediums, from fashion to interior, architectural to art. They will have a go at anything from a lighthouse to a ladle, a cutting edge dress to cutting edge cutlery; they can swing from one to another almost seamlessly. And so it happens that the 'Antique Quarter' of Dublin, Francis Street in the Liberties, now has two of Ireland's foremost former fashion designers, side by side, with their antique shops, both sublime places of discovery and delight, each specialising in a different era.
Last Saturday morning Francis Street felt like a little bit of London. I could feel and see the vibrancy and resurgence of antiques; there was so much to look at. It was clear too that tourists were there on a mission. This perhaps is why there are now four new shops on the street. There is also a rise in the market for really good, serious pieces of furniture or art.
At one time, there wasn't anyone in Ireland who didn't aspire to one of Michael Mortell's statement trench coats. However, in recent years Mortell departed the fashion business as he didn't love the work as much as he had previously done.
"I felt life wasn't going to go on forever and I wanted to go on a new adventure. I have collected antiques since the mid-Eighties. Even on fashion trips abroad, I headed for an antique centre, so I was almost hunting them down. I was thinking: this is what I would like to finish up in."
He opened his first shop in Dame Court four years ago, but has just moved on to Dublin's main antiques 'drag', having created a stylish wood-panelled store to display his amazing art deco and mid-century antique collection.
"It is not as if I became a doctor or an engineer, because it is still to do with aesthetics, I was changing horses but the horse was quite close to me. It just brings you off on a whole new adventure. Suddenly instead of reading about Yves Saint Laurent or Yohji Yamamoto, you are reading about Jean Dunand and other great furniture designers. It just opens up a whole new world, which I find exciting and interesting.
"Everything I have here, I buy because I love it. I find a lot of fashion designers tend to like a particular look and that's what they follow and are inspired by. I have a very wide range because, even when I was doing fashion I had a love for a wide range of designers' work, from Gianni Versace to Issy Miyake or Yamamoto, which are total extremes. I was quite wide ranging because I think if it's great it's great. A great Beach Boys song is as great as a Mozart piece."
There wasn't a thing in the place I didn't want, from a pair of David Hicks table lamps at €2,800, to a fabulous Pansart applique console with matching mirror depicting Orpheus and animals in lush vegetation. There was an amazing pair of very rare 19th- Century mother-of-pearl and tortoiseshell inlay Ottoman tables with an inscription from the Koran at €9,800, plus a smashing Sevres lamp of a figure of a lady in a wonderful Chinese chrysanthemum red coat at €1,900. Any of the many pieces here could totally transform and set the tone of a room, nay a home.
Also stunning, and Mortell's latest design project, was an armchair, commissioned "by a company abroad, which will be going into production shortly. Forget the raincoats, the de rigueur piece will soon be a Mortell sofa.
www.michaelmortell.ie
Patrick Howard was 29 years in the fashion industry before he hung up his measuring tape nine years ago.
"I was tired of the fashion business, it became so difficult. In the early days there were a lot fewer of us around. This is a wonderful business and the pressures are a lot fewer. Every day is different, you never know who is going to come into the shop."
Patrick specialises in 19th- Century antiques and decorative antique lamps, no-nonsense antiques, and says that even with the recession he is finding the business steady.
"Francis Street is a huge tourist attraction, and they come about 10 months of the year.
"You can get some very lucrative deals done. Anything Irish is still a very good investment," Patrick says, as he showed me a set of four carved 19th-Century bog oak candlesticks selling at €800.
He also had a lovely Killarney Ware writing slope, which he found in Australia. "It was probably 100 years in Australia and now it's back home." That was selling at €1,200.
Patrick says he sells a lot of Chinese porcelain to Chinese tourists and to the Chinese community in Ireland.
"They are collecting it and bringing it back home." Patrick showed me an 18th-Century desk with campaign handles which is "a very special piece at €4,000".
www.patrick-howard-antiques.com
Martin Fennelly is an extremely amusing man who departed banking eight years ago for a world he loves.
"I was with the bank for 26 years. I had a great time there, the social life was great, but when I was in my 40s I had lost interest. I decided I was going to do what I always wanted to do and have a little antique shop. I had a lot of antiques myself, so I had the shop half full before I started. I set up the website for Francis Street on Facebook, which is now running into hundreds of fans from all round the world.
"Things are going very, very well and I absolutely adore coming into the shop every day. When I was in the bank, and the alarm clock went off in the morning, you might as well have told me my toenails had to be plucked out. It's wonderful here. I thought I'd never enjoy dusting!
"I think the word has spread that people who bought good antiques seven or eight years ago made good investments, because if you put €10,000 in Anglo Irish then and €10,000 in a really good bookcase, at least you'd still have the bookcase!"
Martin laughs as he recalls his time in the bank. "I was like young Mr Grace in Are You Being Served? I had one of those sympathetic faces, so I was wheeled out anytime anyone had a complaint!"
Michael specialises in boxes, writing boxes, jewellery caskets and tea caddies, but the piece de resistance was a fine model of the Titanic taking pride of place in Michael's window. This was made by a local man Ken Weldon, with unbelievable detail, and won Best in Show at the IMMS Exhibition at Dublin Castle last month. Look out, too, for a gorgeous little French commode box at €400, and a couple of wonderful William Ennis paintings.
www.fennelly.net
Chantal O'Sullivan of O'Sullivan Antiques has a really splendid emporium packed with serious treasures, and she also has a shop in the heart of the antique district in New York, usually travelling back and forth across the pond every three weeks. She will be in Dublin for the summer, as all her NY clients will have gone to the Hamptons.
Chantal says people are buying very high-end pieces. She showed me a very rare rosewood circular table, with a marble top, which came back from the Grand Tour in Italy c1840.
"Dining tables and chairs are always great sellers. A man flew in from Scotland this morning to see this late Georgian mahogany dining table."
I loved a Regency ebonised papier mache tip-up table which had a tray top decorated with trailing foliage, butterflies and pheasants, raised on an ebonised stand.
There is a magnificent 18th-Century chandelier "which I bought in one of the Getty houses. I had it in New York, but the ceiling is lower and I couldn't display it properly so the chandelier came over here". It costs a cool €45,000.
"People here are looking for really good pieces, anything good is selling, into six figures." This is a mecca for serious antique hunters.
www.osullivanantiques.com
Niall Mullen has an incredible range of art deco furniture. "If somebody wants a particularly good D-end table and 10 chairs I will provide that, but you won't find pretty French OTT furniture here. It's kind of masculine furniture from the 1820s, 1830s and 1840s, and art deco Twenties and Thirties of the last century -- English and French.
"Although 20 years in the business, we opened here in this shop in November -- and November, December and January were good. That traditionally is the harvesting time when people after working and paying their taxes may have some spare money. But since then it has been slower."
Niall showed me a fantastic pair of brass curtain polls. There was also a wonderful Thirties French day bed and a fantastical spiralling Lucite light fitting at €4,600.
www.niallmullenantiques. com
Nicholas Gore Grimes opened the Cross Gallery 13 years ago mainly showcasing Irish art. The current exhibition, 'Nonuments to a New International', is by Mary-Ruth Walsh. There is also a basement gallery entitled NAG, dedicated to exhibiting emerging artists. The Cross is taking part in the Scope Exhibition in Basle where it was one of three galleries nominated for the Scope Foundation Award 2012.
www.crossgallery.ie
Philip and Mark Maguire of Connaught Antiques have been in their current location for three years but are, in fact, third generation in the antique business.
They specialise in Regency, Victorian and Edwardian period furniture, objects and paintings. Particularly lovely was a pair of beautiful William IV chairs, dating back to the 1830s, which would cost around €10,000.
www.connaughtantiques.com
New to Francis Street, but not new to the antique business, are Yeats Country Antiques and Greene's of Drogheda, who share a shop.
Mervyn Long of Yeats Country told me they moved down six weeks ago to enhance business. "We are at the lower end with small affordable items like nice little inlaid tables."
There was a very nice little rosewood table with a lift top, which would have originally been used for a bible, but perfect for jewellery nowadays.
www.yeatscountryantiques.ie; www.greenesantiques.com
It's not all antiques and art on Francis Street, as Rosemary Murphy opened The Constant Knitter in December.
"I started off doing mostly knitting wool, but we are now also opening a fabric shop upstairs run by Teresa Czerniac. We have wet felting, sewing, crochet and knitting classes. We will have Marie Treanor in September, who is an expert on Clones lace. We are also having Olga Krivenko from Moscow, a crochet designer and artist, coming here on June 23."
Tel: 087 9967197; info@theconstantknitter.ie
Francis Street also has BIMM Music College, an Oxfam Home Store, and Lovin Catering.
The place is hopping! All it needs now is a few more coffee shops -- The Antique Cafe anyone?
FIRST PUBLISHED IN THE SUNDAY INDEPENDENT ON JUNE 17,2012.