RESTAURANT REVIEW - BRIOCHE CE SOIR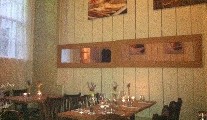 Monday 04 June 2012
Laissez faire was rampant during the CT years, nowhere more so than in the restaurant industry, with many chefs churning out anything they felt like in the name of 'contemporary' food at ridiculous prices.
Hopefully, this attitude is all but gone; I am certainly now seeing enterprising chefs and food producers setting up their own little businesses with much more love in their hearts and attention to detail.
Brioche Ce Soir is a new pop-up restaurant running from Wednesday to Saturday evening in what is, during the day, a Parisian-style cafe called Brioche. It is a dinky little spot, with a counter on the left to the front of the room, and cute little tables and bentwood chairs to the rear. There is a lovely feel, too, with tongue-and-groove walls painted in the much-loved French grey, while 'Allo 'Allo! springs somewhat to mind with a lace curtain covering a rear window, and vintage lights. We almost expected to see Rene's mother-in-law, Madame Fanny La Fan, come tumbling down the banister.
Classically trained chef Gavin McDonagh is at the helm. McDonagh trained in L'Ecrivain, and Restaurant Patrick Guilbaud, and he was executive sous chef in Shanahan's on the Green , as well as doing stints in Paris and Lyon with Paul Bocuse, one of the world's top chefs. He is doing tasting plates at Ce Soir, with some really nice, classical and classy options, priced very reasonably between €6 and €12 -- the top end being foie gras -- and with a generous charcuterie board for two at €17.50.
I love the concept. Some dishes are light, and some are hearty, which is perfect for those who like two starters, but if a real trencherman wants a double whammy of pot-braised pork belly or daube of beef, at €7/€8 a pop, he can easily afford to order another plate or two. Tables are very intimate -- nay, squished together -- but, at these prices, they would need to be and it adds to the atmosphere.
Mary kicked off with a textbook-perfect, Cordon Bleu-style, twice-baked goat's cheese souffle (€6.50). A perfectly raised cloud, light as a feather and slightly browned, it came with oat biscuits and a berry compote. I had "Salmon with a Twist" (€7) -- salmon steak, cured for a couple of days, rolled in herbs, and lightly poached ballotine-style, resulting in a slightly cooked exterior, but remaining pink in the middle, and retaining a smoky flavour. Scandinavian in style, the salmon was topped with horseradish creme fraiche and sat on ribbons of pickled cucumber and candied beetroot -- ace.
Bacon and egg salad Lyonnaise (€6), to follow, sported crispy bacon, crisp leaves and croutons, and was topped with a perfect poached egg and French dressing. It was very nice, but very difficult to eat from a noodle bowl; I had to fumble around the bottom to get at the treasured bacon and croutons, and there was a danger of sending it flying around the table. It would be much better to tip it into an old-style flat soup bowl and plonk the egg on top. Mary had a melt-in-the-mouth, almost caramelised, daube of beef (€8), topped with turned, roasted root vegetables, a mini tian of potato gratin, and a ramekin of celeriac remoulade. All in all, an absolute steal. We also had a bowl of salted new potatoes (€4.50).
We finished by sharing a perfect white-and-dark chocolate bavarois, with another bowl of berry compote (€6), and the best-value, pretty little cheese plate in town at €6.50, which had Bleu d'Auvergne, Glebe Brethan, two Cooleeney cheeses, grapes, biscuits, a fan of apple slices and more berry compote.
We sailed through a bottle of Raimat Albarino 2010 (€24) without any bother and we finished off with a glass each of New Zealand Esk Valley Pinot Noir (€7 each) with our cheese. Service from our waiter and a young girl was delightful, and helpful, and our bill, with optional service, was €95.
A real little find.
L
Brioche Ce Soir,
65 Aungier Street,
Dublin 2.
Tel: (01) 475-8536
www.lucindaosullivan.com
Originally published in THE SUNDAY INDEPENDENT