Our Latest Great Place to Eat - The Greenhouse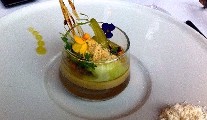 Thursday 31 May 2012
Long long ago the legendary Dick Whittington left his rural homestead for London, with his cat, to make his fortune and ended up becoming the City's Lord Mayor. I don't know whether Finnish chef Mikael Viljanen has a cat, or whether he wants to be Lord Mayor of Dublin, but he has left his former employ in Co. Clare for the bright lights of Dublin setting up right next door to the Mansion House!
Viljanen is working now with Eamonn O'Reilly, whom I believe to be one of the best chef restaurateurs in the country, with his One Pico restaurant in Schoolhouse Lane and Box Tree restaurant and gastropub in Stepaside. O'Reilly has ingeniously created a chic bijou like ambiance and service, in his former Bleu Bistro on Dawson Street, from which Viljanen can further blossom and showcase his talents.

READ ALL ABOUT THE GREENHOUSE ON THE RESTAURANT SIDE OF MY WEBSITE.