Restaurant Review - La Reserve - Ranelagh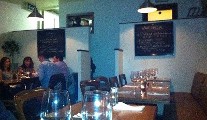 Wednesday 23 May 2012
Ranelagh may well be over-run with eateries of varying standards, but the recent addition of La Reserve Brasserie in the center of the village raises the bar. I had noticed this little spot, which had "Soft Opening this week" chalked' on its window and thought "to hell with that", once restaurants are open and taking real money from customers, they are open for restaurant reviewers too! In the event, they need not have worried about a "soft opening" because everything in this classy little joint was tickety boo from start to finish.
I hadn't previously heard of French chef Jerome Fernandes, who has been hiding his light somewhat under a bushel at a Cafe making Bretagne galettes from his grandmother's recipe. However, I am very glad that Mr. Fernandes has expanded his repertoire because he is a very accomplished chef and it is the sort of little gem that one would go back to again and again as a really good neighbourhood restaurant.
The room is small – roughly 30 covers – with a banquette down each side. Formerly a tapas bar it now has a really nice intimate feel. Taking in the menu, we kicked off with a brace of mood enhancing Kir Bretons (€5.80 ea). Starters €5.20/€12.40 included Francophile favourites of Salade Perigourdine - smoked duck with foie gras, gizzard and caramelized walnuts; and a dozen Burgundy snails Provençale style. French onion soup is there, along with plenty of Norman influences with apple and cream, but also current contemporary stalwarts such as smoked salmon with beetroot and the ubiquitous grilled goat's cheese with rocket, plum and pine kernels. Friend Marni opted for Crevettes Sautés a L'Ail (€11.90) sautéed Tiger prawns with peppers and garlic, flambéed French style with Pastis which she enjoyed. I had a little dish of warm Brie, with a cooked miniature pear, grapes, glazed walnuts and grilled Brioche. Yummy although the menu did say 'marinated raisins' which apparently morphed back into grapes – perhaps in the "Soft Opening". We'll say nothing, it was all very nice!
Mains €15.50/€23.50 included Coq Au Vin and Moules Mariniere with fresh basil. Merlu Poche Dieppoise was hake poached with mussels and prawns in a white wine cream whilst Linguine Crustaces had clams, mussels, courgettes, spring onion, virgin olive oil and parsley. The classic French Steak Frites with a 10oz rib-eye and all the trimmings looked great next door as did a whole baked seabass Barigoule with artichoke, smoked garlic, and a shellfish coulis. I opted for Magret de Canard (€23.50), which proved probably one of the best versions I have had in a long time. Cooked very pink the duck breast, sliced in geometric chunks, was artfully arranged with a brace of whole carrots, little pommes noisette balls, and a stinging citrus Kumquat and orange sauce which cut through the richness of the duck to divine effect. Marni, on ordering her Mignon d'Agneau Romarin (€22.50), was romancing about a similar dish in a favourite restaurant in Cannes where she lives– suffice to say she was then raving about Ranelagh! The lamb loin was infused with garlic and rosemary and again perfectly executed to pink perfection and served with a deliciously tasty potato gateau, wilted greens, and black olive foam.
We followed up sharing an ethereal and perfect raspberry soufflé (€6.50) and a 3-Cheese Plate (€5.90) , which was just perfect, served with spiced pear and crackers. There was also a 5 cheese plate at €10.50. Service was perfect from a delightful French girl and a chap behind the bar who was quietly attentive and effective. Loved the Gallic feel here and the possibility of having sautéed wild mushrooms with apple next time.
Being a nice summery evening we opted for light sweet and citrus fruity bottle of Dome du Tariquet Ugni Blanc Colombard 2010 (€25.60), and with coffees (€2.50 ea) and 'Financiers' and optional service, our bill came to €137.30. Look out for their very good 2/3 Course Early Bird Menu at €19.95/€23.95. Champagne is available by the glass at €8.50, and French Coffee is €6.50.
Jerome Fernandes won't be unknown for long!
La Reserve Brasserie,
53 Ranelagh Village,
Dublin. 6.
Tel: (01) 496-8825
www.lucindaosullivan.com

FIRST PUBLISHED IN THE SUNDAY INDEPENDENT