Gourmet Greenway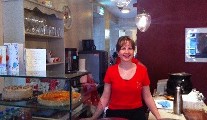 Tuesday 22 May 2012
EVERY second person I meet tells me they have done, or are off to do the Camino -- the pilgrims' route in northern Spain to Santiago de Compostela.
It seems to have captured people's imagination in a big way. Many people walk sections of it each year, but I was fascinated when a taxi driver in Galway told me he had spent 37 days on the walk. He had thoroughly enjoyed the experience, staying in little hostels en route, enjoying simple food and a bottle of wine, and meeting other travellers -- and he'd lost two-and-a-half stone in the process.
Walking and cycling activities were never more popular, and you don't have to go to Spain to do them. One of the best tourism initiatives of recent times has to be the Great Western Greenway, which runs 42km from Westport out to Achill Island.
It spans the route of the old railway line, which has been immaculately tarmacked and marked out for both cyclists and walkers. The Westport railway line was extended to Achill Sound in the 1890s and saw the individual towns en route prospering as a result. The railway companies then became involved in the hotel business -- the luxury Mulranny Hotel opened in 1897 in front of the railway station in a spectacular location, overlooking the islands.
The Mulranny Hotel had all the mod cons of the time, including electric light and hot baths. The development of the road system, however, saw the demise of the railway line in 1937.
The fact that the Greenway is all off-road makes it a serenely blissful experience, with amazing countryside and wonderful views en route. Bike hire is available in each town and village along the route, and if you don't want to do the return journey you can avail of bike hire with a drop-off/collection service.
The trail is broken up into three sections. First is the 11km from Newport to Westport, with an estimated cycling time of one to one-and-a-half hours, or a walk of three to three-and-a-half hours.
Mulranny to Newport is the longest section at 18km, with respective travelling times being two to two-and-a-half hours' cycling, or a five to five-and-a-half-hour walk.
Mulranny to Achill is 13km and is one to one-and-a-half hours' cycling and two to two-and-a-half hours' walking.
The Greenway crosses through active farmlands which are privately owned. The public have landowner permission to walk or cycle on the Greenway but are asked to respect property and livestock and have regard for farming activities.
This is an amazing natural facility for people and I was very impressed with it all, including the great signage for the Greenway.
The Mulranny Hotel operated for many years as the Great Southern Hotel Mulranny. In June 1968, John Lennon and Yoko Ono visited, and you can now stay in the same room, which is named after them. The hotel closed in 1990 and lay derelict until it was purchased and redeveloped by the present owners in 2003.
The Mulranny Park Hotel has devised a food trail in association with Mayo food producers called the Gourmet Greenway, and Greenway Adventures, with activities from surfing and kayaking to angling, equestrian, rock climbing and abseiling.
To launch the Gourmet Greenway for 2012 the hotel hosted a spectacular eight-course dinner in its Nephin restaurant showcasing local artisan produce, and welcoming new members. The food, presented by head chef Ollie O'Regan and his team, was spectacular, as were the wines from the cutting edge Elephant Hill Winery at Hawkes Bay, New Zealand.
Gunther Thies, who moved from Germany to New Zealand in 2006 as managing director of the winery, guided us through each course with matching wines.
We kicked off this glorious marathon with a plum tomato consomme, the star feature of which was a native oyster from Croagh Patrick Seafoods which is based in Newport.
This was followed by seared Clew Bay scallops served with Kelly's of Newport pork belly, artichoke puree, sage jus and Greenway Farm shoots. The accompanying wine was a spectacular flinty fruity Pinot Gris. Next up was a double whammy of Gerry Hassett's smoked and barbecued salmon, the latter a quenelle set on a rectangle of smoked salmon, along with a line of avocado puree dots, and a tian of crab and potato salad. You can find Gerry Hassett's Keem Bay Fish Products in Keel on Achill Island.
At this point we were washing down a wonderfully rich, round golden Elephant Hill Chardonnay before embarking on a beautiful silky Champagne sorbet.
The main courses offered a choice of seared rib of Kelly's Irish Angus beef, with a smoked celeriac mousseline, flash-fried pak choi, pickled walnut butter, and potato fondant, or baked fillet of Curraun blue trout, sea farmed at Mulranny by father-and-son team Tom & Tom Dougherty. This was served with smoked bacon, a cabbage ball, spinach and oyster mushrooms. Wines were a Pinot Noir or Sauvignon Blanc.
Next up was a pre-dessert of blackcurrant pannacotta with a fresh berry compote, to be followed by a beautifully dressed and embellished colourful dessert tasting plate of chocolate, chocolate and Bailey's parfait, fondant, white chocolate mousse, kumquat compote, and pistachio icecream with James McDermott's local Murrevagh Honey.
We then had a wonderful cheese board of handcrafted cheeses from Carrowholly Cheeses, which is based in the village of the same name. The evening culminated with the presentation to each table of stunning dramatic ice igloos, each one filled with more treats by way of petits fours.
It is amazing what can be done in an area if everyone pulls together for the common good, and no one is more proactive than Sean Kelly. His butcher's shop, Kelly's of Newport, is a well known name both locally and in wider foodie circles. It was established on the Main Street in the Thirties and remains a family business, being run by brothers Sean and Seamus, and Sean's sons Kenneth and Cormac.
Sean is the first Irish member of the Confrerie des Chevaliers du Goute-Boudin (the Black Pudding Fraternity of Lovers of Good Food) for his amazing black and white puddings. His Putog is famous, being a traditional black pudding originally cooked inside a sheep's stomach casing. Kelly's now employs 16 people so, as Sean says, "We must be doing something right."
His daughter has just also opened her Kelly's Kitchen cafe right next door to the shop -- and I am sure she was thrilled to have a visit from this restaurant critic 30 minutes after she opened the doors! However, it was all in good fun, and it all looked lovely.
Two of the newest members of the Gourmet Greenway are James McDermott and Derek Norton of Mulranny-based Murrevagh Honey. James told me he has been producing honey for the last three years. "It is a small hobby apiary which started with one hive and has grown to seven." His is a beautiful light pale honey with a delicate flavour resulting from the wonderful Mulranny Mediterranean heather, the fuchsia and blackberry bushes, which are profuse around the Murrevagh area.
The honey is sold locally, when available, in Mulranny Market and Kelly's Butchers.
The second new membership of the Gourmet Greenway group is Greenway Farm, which was started in 2010 at Derrada, Newport, by Colin and Alison McMullen, producing fresh fruit and vegetables grown using natural, chemical-free methods.
Other members of the Gourmet Greenway include Michael Flanagan's Achill Island Turbot, established in 2008 and Ireland's only turbot farm. Rua and Cafe Rua in Castlebar are also members, as is An Port Mor restaurant in Westport run by chef patron Frankie Mallon. Newport House is also a member, along with the very popular Grainne Uaile pub in Newport.
I can't wait to go back.
www.mulrannyparkhotel.ie;www.greenway.ie
FIRST PUBLISHED IN THE SUNDAY INDEPENDENT