KINSALE GOURMET FESTIVAL 2009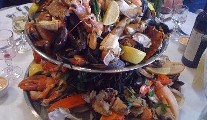 Monday 19 October 2009
"There is no recession in Kinsale" said Martin Shanahan, owner of Kinsale's hugely popular Fishy Fishy Restaurant. So it certainly appeared last weekend in Kinsale when they had up to 1000 people over the course of the weekend attending the various events. All nice normal people – no phoney type foodies twats or celebrities – just nice people wanting a bit of fun – that is what I always like about the Kinsale Gourmet Festival. And it is a business that attracts a lot of pretentious nit wits waffling about the aroma and provenance of the beetroot or some such crap. We were in the Function Room of Acton's Hotel, as we spoke, at the grand swansong of the 33rd Annual Kinsale Gourmet Festival, which was a spectacular "Fruits De Mer" lunch prepared by all the chefs of the Kinsale Good Food Circle and it was a full house. Tables of ten received a huge two tier Seafood Platter literally loaded with prawns, mussels, clams, lobster claws, spider crabs, crab claws and oysters. In addition, each diner received a half lobster with salad and new potatoes not to mention gorgeous desserts. Tickets at €75 also included literally as much wine, sponsored by Findlater's, as one could drink. Each restaurant had two tables to look after and we were cosseted by Michael Frawley of Restaurant d'Antibes. It was an absolute Tour de Force. Derek Davis, who was Master of Ceremonies for the weekend, entertained the troops and proudly boasted of having been there 22 years ago. I hate to tell you Derek, I was at the first Gourmet Festival in 1976, so you are still a blow in! Mind you the food wasn't that much on my mind back in 1976, it was more the chasing the crack rather than the crabs! Kinsale attracts everybody! We were sitting with five visitors from Chislehurst in Kent, on their 'maiden voyage', to discover as I got chatting to one of the girls that my cousin, the local paediatrician in Chislehurst, had delivered her baby! You can do nothing as they say.

The Festival kicked off on the Friday at the White Lady Hotel with a cookery demo, and samplings, by Olivier Queva of Max's Wine Bar, and a deputation of chefs from Newport, Rhode Island, led by Newport Tourism marketing supremos, Kathryn Farrington and Lenny Pannaggio. Kinsale has been twinned with Newport for the past ten years, where they hold an Irish Festival each March with chefs and restaurateurs from Kinsale going out to restaurants to work there. The next event runs in Newport from 4th – 7th March 2010. Information on www.GoNewport.com.
Saturday is always a big fun day with "The Mad Hatters' Taste of Kinsale" taking over the town. The merry revellers clad in all sorts of mad headgear congregate at Acton's Hotel at 11.30 and, after more bubbles, split into four groups to follow Alice in Wonderland characters on a tour of four venues where restaurants have put their best foot forward with stalls groaning with delicious seafood and other goodies to eat and drink. It is quite funny to watch 'newbies' who haven't learned the art of pacing themselves and consequently are falling by the wayside after a couple of hours! It is a hilarious day. At Man Friday's stand, Philip Horgan, excelled himself with fabulous crab, prawns, pates, salads, a really lavish display. Acton's Hotel produced a 'Keith Floyd Seafood Stew' in memory of the late tippling chef who lived for a spell in Kinsale. Fishy Fishy's display included calamari, prawns, crab, and sushi. Restaurant d'Antibes at the White House also had a lovely display of smoked salmon and seafood but their flourless chocolate cake is to die for.
Put the Kinsale Gourmet Festival in your diary for October 2010.