Restaurant Review - Lucinda at BITE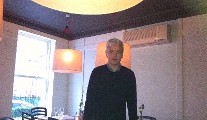 Monday 14 May 2012
The life and restaurant times of Ronan Ryan have been well documented in the press over the past couple of years but, just in case you missed out, he is the chap who started Town Bar & Grill, which became one of the most popular restaurants in the city and the haunt of politicans and media figures.
Following Celtic Tiger expansion with South Bar & Grill at the Sandyford Industrial Estate, problems arose. South closed and Town Bar & Grill was taken over, with Ryan eventually moving on. He is a very professional and accomplished guy who knows everyone there is to know in this country and he has a knack of attracting a following. Now, after a brief period as manager of The Dining Room at La Stampa, Ryan has teamed up with concert promoters Brian Spollen and Anthony Remedy. With chef Malcolm Starmer, ex La Stampa and Richard Corrigan's former Lindsay House in London -- which achieved a Michelin Star during his tenure as head chef -- they are taking on the fish and chip world with Bite, a new fish 'n' chips and cocktails eatery in the former George's Bistro on South Frederick Street. Now, who doesn't just love a one and one, and who doesn't just love value for money -- it's a great idea!
The menu is very simple, kicking off with Free Stuff -- popcorn: chilli squid, plain chilli, or buttered. Now, I can tell you, that went down well with a caipiroska (€6.95) for me, and a Stephen's Green (€7.95) for Mary, on the covered outdoor terrace where we people-watched and dived into the bowls like addicts. Starters (€4.95-€6.95) included smoked haddock and mussel chowder; pil pil prawns; potted crab; or deep-fried mozzarella balls with sweet chilli jam. Mains (€9.95-€11.95) included green cod, haddock, sea trout, hake, sea bass and sole -- all cooked either in a vodka and beer batter, simply grilled, or with panko breadcrumbs, and served with regular fries. You also get balsamic, seaweed or sweet chilli salt, and, for €1.99, you can upgrade your fries to VIP truffle and Parmesan fries, or for €2.99, to VVIP duck-fat fries. If you are not a fishophile there are two chicken dishes -- wild garlic chicken Kiev and BBQ glazed chicken -- or a veggie dish of roasted couscous, sweet-potato wedges and crumbled feta. Sides (€3.95, or two for €7.50) included baked sweet-potato wedges with tahini yoghurt, roast fennel with salted lemon, or home-smoked baked beans. They also have a late-night mini bites menu (€4.95) -- fish taco, chip butty, fish finger wrap, and tempura squid octo vinaigrette, which is also available on the lunch menu.
After the chilli squid popcorn, I had really zingy pil pil prawns (€6.95), while my friend Mary had a great-value tian of potted crab (€6.95) with grated apple and fennel. A fine fillet of sea bass (€11.95) for me was simply grilled and served with fries in a brown-paper bag on the plate, while Mary had an excellent fillet of haddock (€9.95) with upgraded heavenly truffle and Parmesan fries (€1.99). We went a bit overboard on the sides because they all appealed so much. Roast fennel with salted lemon was superb, while Mary adored the lovely, fresh, crispy ruby grapefruit slaw.
Desserts (€4.95) included lemon meringue, warm chocolate brownie and vanilla ice cream, and popping candy ice cream, and, even though we were full as pinkeens, we forged ahead with a three-scoop bowl of ice cream. Wines are from €17 and fizz is from €19.90; all are available by the glass. With a lovely aromatic Giobau Sauvignon Blanc (€20) and optional service, our bill was €98.89. We departed leaving Dublin's great and good not being able to resist licking their fingers -- now that was a sight!
Decently priced cocktails, al fresco dining options, bookings taken, a late-night menu, a great buzz, lovely, friendly service, and fish 'n' chips cooked by a top-notch chef.
L
Bite,
29 South Frederick Street,
Dublin 2.
Tel: (01) 679-7000
www.lucindaosullivan.com
Originally published in the Sunday Independent